In our previous blogs on the subject of Account Based Selling (ABS) we discussed the importance of building trust to remove friction from the selling process as well as including former clients and lost opportunities in your outreach efforts.

In this blog, we'll talk about the impact of data on your ABS program. When properly collected and analyzed, data can improve your selling efforts. Capturing intel directly from the market allows you to identify trends and nimbly pivot in response to changes that may require a shift in your selling strategies.

At ML, we recommend a four-step approach to managing data so that it tells a story that can help you improve your ABS programs.
1. Identify Data Sources

It's important to identify the data sources that will provide the most relevant data for your market. We see examples often where clients spend time on the wrong data: data that's not clean, or doesn't represent the right decision makers, or doesn't have the intent data you need to hone in on your best prospects. Bad data leads to bad results.

Data that helps identify your ideal customers and the markets in which they operate is an important foundational piece of an effective ABS. At ML, we have partnered with ZoomInfo and Definitive Healthcare to provide us that strong foundation not only for our clients but also for our own business development efforts. "Having the right list resources in place is so important to support an ABS strategy. It truly is the key to strategically arming your team with the best starting point to get to the right decision maker, gather intel and help understand buying decisions within a company" says Mary White, ML's SVP.
Another important, but often-overlooked, data source is other departments within your own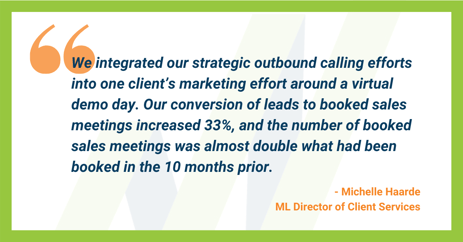 company. Collaborating with these other departments can sometimes uncover activities that you can incorporate into your ABS programs. This can include recent or upcoming events you weren't aware of, or social media connections. Bringing the stakeholders together can also help you strategize with all program participants at one time. These individuals are often scattered across different lines of business or even geographies so bringing everyone together to share insights and understand their needs just naturally provides data points that can benefit your program.
Michelle Haarde, ML's Director of Client Services shared this example. "We integrated our strategic outbound calling efforts into one client's marketing effort around a virtual demo day. Our conversion of leads to booked sales meetings increased 33%, and the number of booked sales meetings was almost double what had been booked in the 10 months prior."

2. Invest in the Best Tools to Manage Your Data

Technology is key to helping you manage all of your data so that you can analyze, report and nimbly pivot but it's not enough to simply license products. You must also identify internal owners of the technology and invest in their education to use it to its fullest potential. ML's entire team is encouraged and supported in keeping current with all the software we license and most have obtained… and maintain… multiple accreditations. Most software publishers have online courses available that make this quite easy and inexpensive.

Erin Studstill, Director, Account Operations heads up the team responsible for data at ML. ML manages all of its corporate programs as well as client activities within the HubSpot CRM. HubSpot enables us to run reporting specific to our business, but also "segment" or "partition" data specific to each of our clients.
Erin says "We use HubSpot's strong automation capabilities to bucket data and track a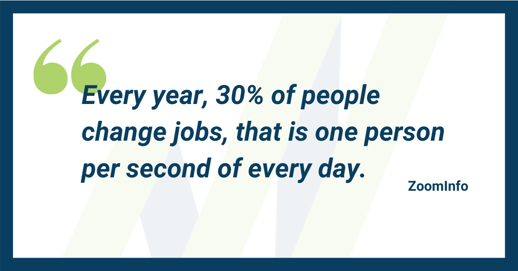 variety of data points. We also have team members responsible for ensuring our data is complete and accurate and updated regularly, using ZoomInfo and other list sources. We have full adoption of the HubSpot sales platform at ML and each team member understands the importance of tracking every touchpoint within HubSpot. This gives us insights into what outreach is needed to move a prospect through the lead funnel, and it also allows us to see trends by account that may signal a need for additional touchpoints or a different cadence of strategic outreach."

3. Analyze Your Data Often and Effectively

Technology is an important enabler and time saver in the analysis process. ML partner, Databox, provides a tool that helps us quickly and easily pull all of our data together to visualize our performance against project goals. Getting a complete view of all of your data will surface trends and quickly provide insights concerning any pivots that may be needed.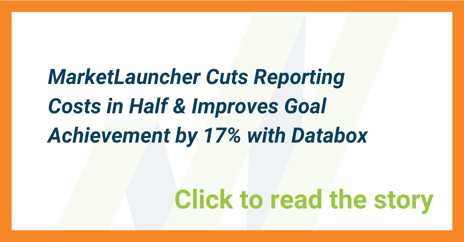 "For each client, we track about 30 standard quantitative metrics. Thanks to tools like HubSpot and Databox, we are able to access those metrics in just seconds" says Erin.
4. Data Reporting

Reporting is a critical piece in the "data analysis" process. You must listen to and share the story your data is telling in order to identify ways to maximize the outcomes and ensure the continuous improvement of your ABS program. It's important to regularly look at metrics that show how your leads are progressing – this helps to diagnose any constraints at different stages of the funnel. And it's important to capture and review conversations to see a full picture of how the market is responding to your value proposition.

An effective best practice we have observed is to provide a monthly diagnostic report that includes quantitative data to show conversion metrics and how they compare to your benchmark KPIs as well as qualitative data based on the intel your team is collecting in their prospect and client conversations. This data will show how the market is reacting to your message, what common objections the team is encountering and any reference to common pain points that help inform how the market views your value proposition. With this data, you can quickly understand where fall out may be happening in the sales funnel so that you can take corrective action.

And don't forget that reporting doesn't signal an end to your data process. You must incorporate all of your learnings to support your selling efforts and identify areas where you may need to pivot to strengthen your selling efforts.
Don't miss any of our blogs. If you haven't already subscribed, we invite you to do so.

Please contact us to learn more about MarketLauncher, or any of the materials discussed in this blog.