If there is one thing we learned in 2020, it is the importance of people. Not that we didn't already know this. Our company mission states that our goal is to provide an environment where "A" players help companies achieve predictable growth.
But the challenges the business community and our people experienced in 2020, helped us remember just how important it is to maintain an environment where our people can achieve success. As we move into the New Year, we are using the lessons learned in 2020 to give us "2020 Vision in 2021".
New People

In 2020, we welcomed 7 new team members including 4 new Specialists, 2 new Managers and 1 new Associate. These new team members helped us expand our capacity and provide a deeper bench of expertise to serve the needs of our growing client base.

As we start 2021, we are actively recruiting for additional team members. Our analysis shows that the market is rebounding from the impact of 2020, and client demand is rising dramatically for us. These new team members will be instrumental in ensuring we provide outstanding service that helps accelerate growth for our clients.
New Promotions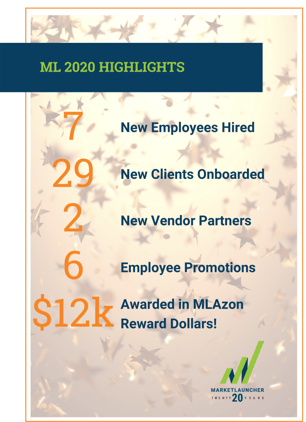 As COVID-19 took hold late in the first quarter of 2020, it created a need for the ML team to pull back and focus on helping our clients respond to changing conditions. For many clients, this meant helping them navigate a new environment that required them to work remotely. We were happy to share our 20 years of experience as a 100% remote firm. For other clients, especially those in healthcare and industries where their services and products were important in responding to the COVID crisis, we ramped up to respond to their increased needs. At the same time, we needed to ensure the safety of the ML team and support them as they responded to their individual challenges.

The entire team was incredibly responsive to all of this "beyond the norm" amount of change but several in particular really went above and beyond. Their performance not only helped us navigate through 2020 but also highlighted areas that will strengthen ML's services for our clients in 2021.
They are:
Mary White: promoted to Senior Vice President. Mary manages our operations, oversees the continuous improvement of ML processes and methodology and manages our very important partner relationships including HubSpot.

Terri-Lynne Anderson: promoted to Director of Specialist Talent. Terri-Lynne is not only a top performer with a talent for getting through to decision makers across a range of industries, she is an excellent coach helping our Specialists achieve success.

Michelle Haarde: promoted to Director of Client Services. Michelle is a master of strategy with deep expertise in testing new markets and refining messaging to drive results.

Erin Studstill: promoted to Director of Account Operations. Erin is a data expert who crafts ML's highly-regarded market assessment reports to give clients extensive market insight.

Jennifer Aldinger: promoted to Senior Sales Development Specialist. Jennifer is skilled at utilizing Account Based Selling techniques to create the right relationship to drive sales. She is dedicated, driven, and always on a quest for improvement.

Teresa Block: promoted to Senior Market Research Specialist. Teresa is laser-focused on maximizing performance and achieving client deliverables. She truly enjoys uncovering leads and helping the team achieve its full potential.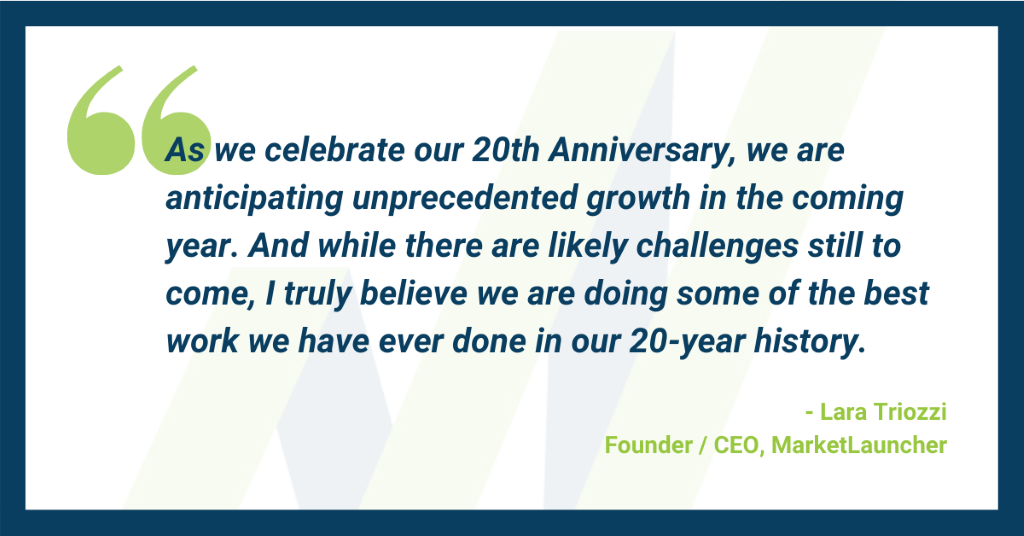 Same Great Client Service in 2021… and Beyond

We would be remiss if we didn't say a huge THANK YOU to our clients who stuck with us in 2020. Because of the incredible partnership we have forged with each and every one, we were able to help them navigate a shifting market and, in many cases, ramped up programs to respond to increased need for sales activity.
As mentioned, in 2020 we shared our 20 years' experience as a 100% remote company operating in a virtual environment to help our clients in their own shift to remote work. ML has perfected the use of technology to stay connected with our remote based teams and we were grateful to be able to help our clients do the same.
And a big THANK YOU to our partners as well… HubSpot, Databox, ZoomInfo, DiscoverOrg, Lead411, LinkedIn Recruiter and Definitive Healthcare … who allow us to support our employees and clients to the fullest potential! These partners are important contributors to the value ML is able to provide.
Our greatest focus for 2021, our 20th Anniversary year, will be on people. We will continue to put our employees, clients and partners first and build on our foundational values, and will not forget the reminders that the challenges of 2020 provided about the importance of people.
Until next time,
Lara
Don't miss this next blog in the series. If you haven't already subscribed, we invite you to do so.
Please contact us to learn more about MarketLauncher, or any of the materials discussed in this blog.