How does data impact your Outbound Marketing Strategy?
Data, and its practical analysis and reporting, elevate a traditional outbound sales program to a strategic outbound program. By applying data-driven decision-making to your sales programs, you will get in front of the right decision-makers faster.
At ML, we have embedded data analysis and reporting into our services for over two decades and learned valuable lessons.
Lesson One: Set Measurable Outbound Marketing Strategy Goals
Without goals, it's virtually impossible to perform data analysis and reporting in a meaningful way. In addition, clearly defined goals ensure everyone on your team is focused and aligned to a common objective.
Setting goals allows you to identify your strengths and areas for improvement. Striving toward defined goals that everyone shares sets you up for greater success.
Related Blog Post:
Data and the Art of the Pivot

Lesson Two: Include Quantitative and Qualitative Goals
To best gauge the performance of your B2B outbound program, be sure to set quantitative and qualitative goals.
What Are Quantitative Goals?
Simply put, quantitative goals are subjective and have a number associated with them. Their data are more accessible to track than qualitative. From a B2B sales perspective, quantitative goals and their corresponding data help you understand how your leads progress. This allows you to predict outcomes better. Here are a few examples of quantitative goals you might set for a lead generation program: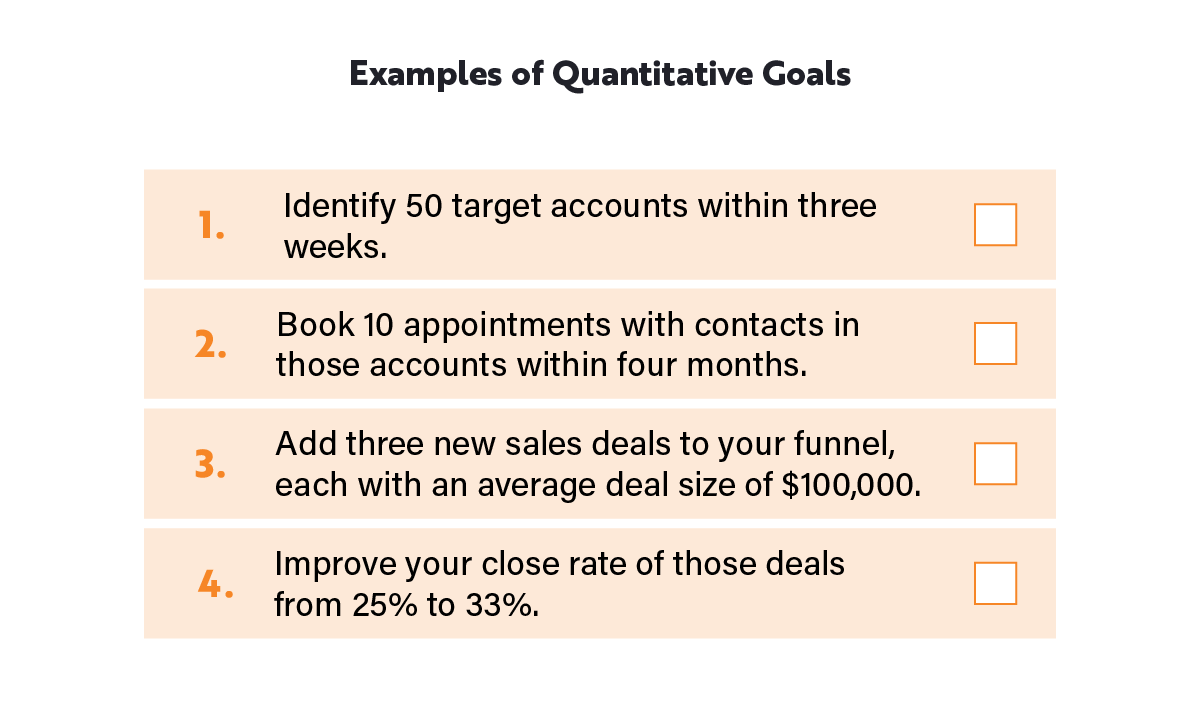 What Are Qualitative Goals?
Qualitative goals are subjective, and their data is harder to track. Qualitative data includes the intel we pick up from conversations. It provides insight into how your audience responds to your offering. It can help inform strategy and confirm whether you are on the right track or in need of a pivot. Some examples of qualitative goals that support your strategic outbound program include: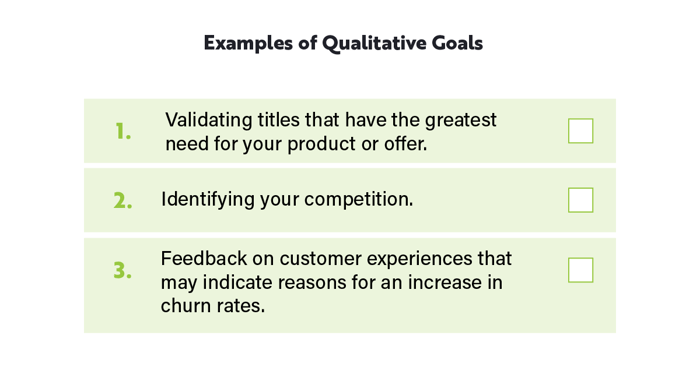 Lesson Three: Invest in A Solution to House Your Data
What are you doing with all the data you collect? At ML, we use HubSpot to manage data for ourselves and our clients. HubSpot is an effective tool all MLers use to track every interaction. It is safe and secure and easy to use.
Related Blog Post:
3 Essential HubSpot Sales Enablement Capabilities to Empower Your Team

Our attention to data sets us apart from our competition. But unfortunately, we have seen many instances of insightful data not being effectively used to inform sales strategies. This is often the case for clients with new sales teams or that have gone through a merger or acquisition and data is housed in disparate systems.
One of our clients had invested in CRM and sales tracking systems, but found that not all their team members adopted them. Many used spreadsheets that only they could access. Others kept the data in their heads. They were not following a data capture process that benefitted everyone.
At ML, one of the first things we do for new clients is create a HubSpot portal to house project data. Through this process, combined with our regular reporting, our clients see how essential information is to revenue generation. They see how to gather the intel their sales (and other) programs generate and learn how to establish similar in-house programs. Sharing data management best practices is one of our highest priorities. For the client noted above, we helped improve their processes so they could take advantage of the full power of their new systems. This new process improved our project and their other revenue generation efforts.
"At ML, all team members are meticulous about putting notes from all engagements into HubSpot. We have been using it for years, so the notes can be pretty extensive. I start all prospecting efforts by looking in HubSpot. If we have previously engaged with a company or individual, I get terrific intel that I can leverage in my conversations. Mentioning prior discussions can help me grab attention quickly.
"Conversely, I input all my findings into HubSpot as I have my conversations. Not only will that support future calls, it also supports the data analysis and reporting that ML performs throughout all campaigns. The info I provide can help track performance that may signal when changes to our outreach are needed and track our performance against goals. We are also very careful to add any changes in contacts, any competitive insights … everything relevant to the client or future selling."
Heidi Hacker – Sr. Sales Development Specialist, MarketLauncher.
Lesson Four: Analyze and Report Regularly
Data analysis and reporting should occur regularly. Data will inform your activities and responses and improve decision-making. Regular reporting will show how your leads progress and how the market responds to your value proposition. You can spot trends early and take necessary action fast. This includes re-evaluating your goals or pivoting to achieve them.
We recommend a monthly diagnostic report and a comprehensive assessment report every six months. The report should include actionable recommendations to improve outcomes.
Technology can assist with analysis. For example, the ML team uses Power BI to quickly and easily pull data together to visualize our performance against project goals.
For each account program, we track about 30 standard quantitative metrics. Thanks to HubSpot and Power BI, we can access those metrics in seconds.
We continually review what we are learning from conversations to analyze qualitative data. We read discussions in bulk to see trend consistencies like keywords or competitor mentions. Then we try to use that information to shape messaging and responses to help us meet objectives.
"It is a capital mistake to theorize before one has data."

– Sherlock Holmes in A Study in Scarlet

by Sir Arthur Conan Doyle
Lesson Five: Build a Repeatable Process
Incorporate your learnings across your organization to get the full advantage of your investment in a Strategic Outbound Marketing program. Much of the intel you collect may also influence other lines of business, including Customer Experience, Support, and Marketing.
The insights will help you create a repeatable, evolving sales program and build a sales pipeline that is predictable and scalable.
The Best Outbound Marketing Strategy Is a Team Effort
We have blogged about the four steps to a Strategic Outbound Marketing Program.
Four Steps to a Strategic Outbound Marketing Program
In addition to those four steps, we have one more recommendation to elevate your outbound marketing efforts: make sure you have experts on your team who can take ownership of each cornerstone element necessary for a successful program. At ML we call this the "Diamond Approach" and we apply expertise as follows:
Client Services is responsible for the STRATEGY and focused on the GOALS
Account Operations is responsible for the REPORTING and focused on the DATA
Marketing Communications is responsible for the MESSAGING and focused on the MARKET REACTION
Our Specialist Team is responsible for the EXECUTION and focused on the INTEL
Related Blog Post:
The Diamond Approach: 4 Cornerstones to Build a Healthy Pipeline

Consider taking a collaborative approach to revenue generation. Combined with the four steps covered in our recent blogs, you are almost sure to get in front of your buyers faster to close more deals.
Thanks for listening.
Erin