Trust has always been an important part of the buying cycle. No one buys from a company that they do not trust. These days building trust is more important than ever as companies grapple with the impact of COVID-19 on their business, their people, and their bottom line. At ML, we experience regularly the benefits building trust creates for our own marketing and sales efforts. This value doesn't end when you sign a new account. Done right, building trust will result not only in new clients, but in advocates who will help you grow revenue. 
Applying an

ABS methodology

to your

selling efforts creates that trust.
More than 60% of ML's current active programs are made up of long-term clients, returning clients and people who have left a client company and brought ML into their new employer. That is a true testament to the relationships we have built through trust.
In this blog, we will share our experiences to show you how to remove friction from the sales process and build trust that creates new clients who ultimately become your advocates.
Understanding your value proposition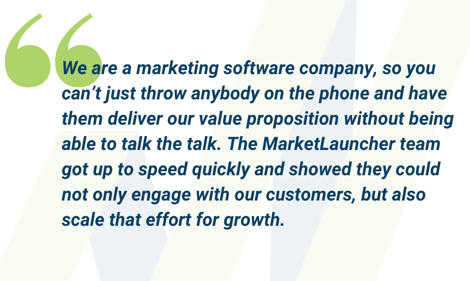 A critical first step in building trust is understanding your products and services and the value they bring to your buyer. I mean, REALLY understand this. If you haven't already built "Ideal Client Profiles" for each of your products and services, we encourage you to take time to do this as the information can help you properly build an accurate list of your best target accounts.When onboarding new clients, we spend time in strategy sessions really fleshing out the Ideal Client Profile in the context of understanding who is most likely to benefit from your value proposition, your key differentiators,your competitve strengths and more.
Identifying your target market
Armed with a deep understanding of your products and services, you can focus on identifying the target accounts most likely to have need, and the stakeholder roles within those companies that are most likely to feel pain and respond to your solution. This requires not only having access to market research tools like ZoomInfo, but the resources who know how to use and effectively leverage those tools.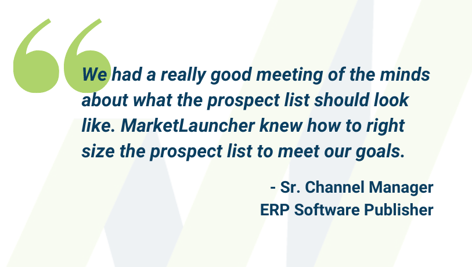 A quick way to damage trust is to try selling a product or service into an account that does not need them, or wasting time engaging with the wrong person within the right account.
Many companies don't understand the importance of this market research. Those that do and who invest in doing it properly tend to see faster results from their prospecting efforts.
Engagement that builds trust
At ML, we employ many techniques to engage target accounts with a regular cadence of effective messaging. This cannot be a "one and done" outreach effort. Your engagement plan must involve multi-touch points that deliver messaging focused on the business needs and pain points of your target market, providing insights and information of value that educate your potential buyers. This kind of outreach warms leads up so that they will respond to your emails and phone calls.
Even if your audience doesn't immediately respond, demonstrating value with content that shows knowledge about their industry, their role, and their challenges creates a  One-Way Dialogue that helps to build trust. We have seen this in our own new business efforts.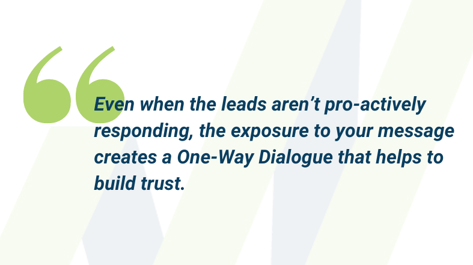 I can name a handful of ML clients who reached out to us asking for a proposal after months of no response to our outreach efforts. In a few infamous cases, that "one-way dialogue" had been going on for anywhere from one to ten years and we had no idea they were paying attention.
If you haven't already, invest in the best tools that facilitate digital engagement and hone your skills so you are using them effectively. This includes CRM and automation platforms like HubSpot, but also video conferencing technology.
Many analyst firms and sales organizations are reporting that using digital technologies for selling will not go away post-COVID. McKinsey reports that remote-based selling has been embraced by buyers saying:
Around 90% of B2B decision makers expect the remote and digital model to stick around for the long run, and 3 in 4 believe the new model is as effective or more so than before COVID-19 (for both existing customers and

prospects)

.
ML has functioned in a virtual environment since our inception in 2001. We've benefited greatly from the evolution of technologies that make it easier to connect both internally with our team, as well as externally with clients and prospects. When the pandemic began, one of our first priorities was to share our expertise to help our clients set up their remote operations and adjust their sales approach, leveraging tools like ZohoConnect and Zoom video conferencing which we've been using for years.
Have

the right team and tools to drive results
The ML team leverages our 20 years of experience in a rapidly changing world of prospecting. Sales strategy, market research, data management, and the right technology are all tools in your prospecting arsenal that get fast results. You need all of these elements working in concert to maximize the outcome.
Account Based Selling is an approach that we have used in our new business efforts which has led to success. We have a predictable model that delivers the exact number of opportunities we need each quarter to ensure we hit our sales goals. This has allowed us to find ways to deploy similar strategies for our clients. The key to success is having an engagement plan with messaging that builds trust and pro-active outreach that drives leads further into the buying cycle.
In our next blog
When you build trust, you remove friction in the sales process and create advocates. In our next blog we will discuss trust as the cornerstone that drives our entire flywheel. We will share details on how this process consistently results in a significant portion of our new business each year coming from prior relationships where we have built trust; and share advice on how you can enjoy similar results.
Don't miss this next blog in the series. If you haven't already subscribed, we invite you to do so.
Please contact us to learn more about MarketLauncher, or any of the materials discussed in this blog.