As we come to the end of our 20th Anniversary year, we complete our 3-part blog series highlighting our team's contributions to our success. We focused on our team of Specialists in the first blog, the contributors who are out there on the front lines delivering results for our clients every day. In the second, we shone the spotlight on our data team who work behind the scenes to make sure we are optimizing the results on every campaign. This time, we feature some of the members of our Client Services Team who are the face of ML to our clients and drive strategy for each program.
One thing that will stand out to you about this blog's featured employees is that they all started in 2021. This has been a growth year for ML, and we seized the opportunity to scale for future growth by building out this team to cover our expanding client base.
As part of that expansion, we created new roles to help guide us to the next level of success, Client Service Manager and Sales Content Manager. Each of the individuals in these positions (Brooke Castino, Ryan Gajdos, and Stephen Kirkpatrick) has embraced our key strategic anchor, collaboration. You will see this as a theme in each of their stories.
Setting Client Strategy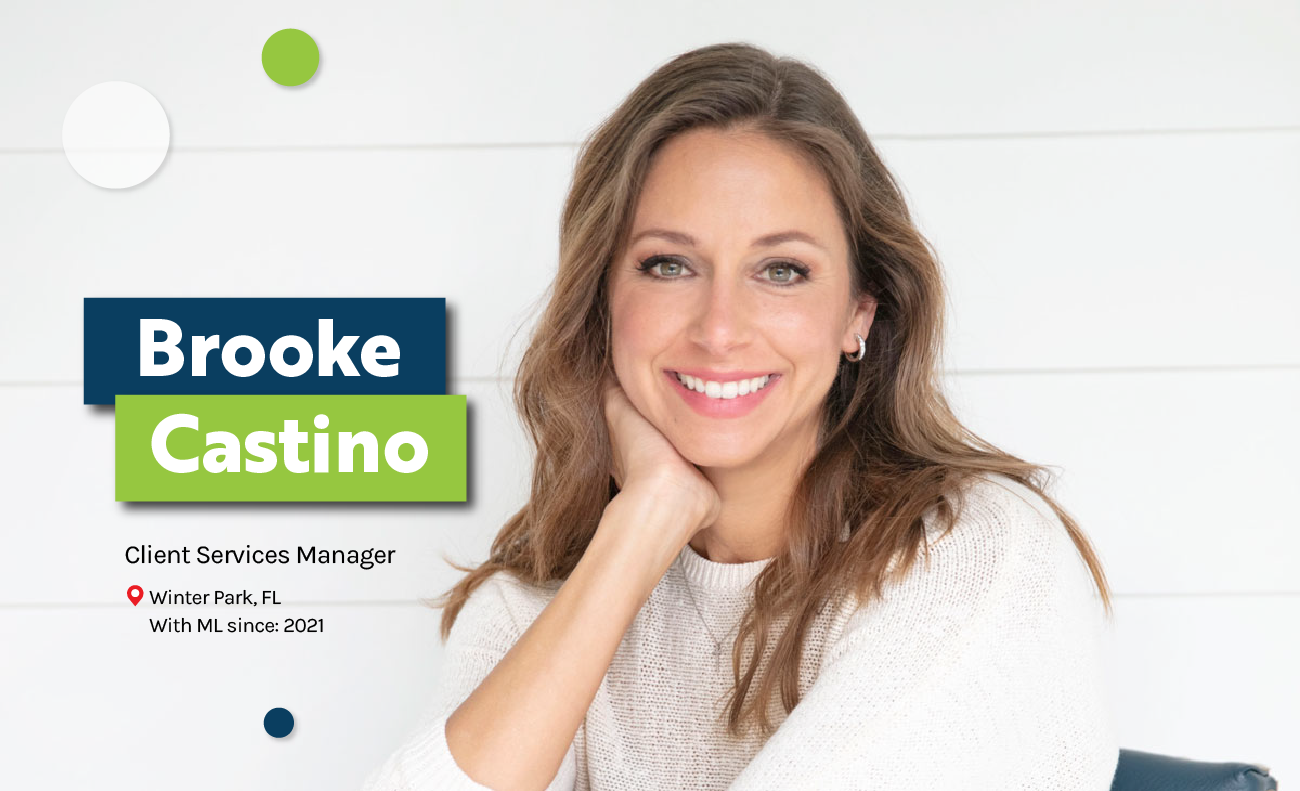 I started at ML in January 2021. I have known Lara Triozzi (ML's CEO) for a long time and have always been impressed with her as a person and a leader. I admire how she has built ML and the value she creates for clients and the focus she puts on the ML team. The Client Services Manager position was of interest to me because I enjoy building relationships with clients. As I learned more about the role, I found it was a great fit, and as I went through the extensive interview process – and met the amazing leadership team – I wanted to be a part of ML that much more!
As a Client Services Manager, I am responsible for externally facing relationships with clients and internally facing relationships with the ML team. My role begins the minute we welcome a new client, managing the onboarding process and timeline to make sure we meet deadlines and deliverables and keep on track for campaign kickoff.
"Collaboration is key to the success of every project."

I especially enjoy leading kickoff calls. Collaboration is key to the success of every project, and this first meeting is a great start to that collaboration. It's an opportunity for everyone to meet and make introductions. Our team hears firsthand from the client about their offerings, their pitch, key value propositions, and success stories. In addition, we discuss common issues, pain points, and objections that ML may face when we begin our outreach and strategize on how to overcome them. It is so valuable to have our team hear it directly from the client's perspective.
I go into each new client campaign with the mindset of "building the runway." ML's strategy of a 6-month pilot campaign is designed to do just that. It involves verifying our target market, validating decision-makers, beginning a strategic outreach program to engage and educate potential buyers about our client's offering, and ultimately converting the right prospects to a sales meeting. Sometimes, clients expect to see results right away, and they may feel the need to pivot messaging or other aspects of the program too soon. My role involves assuring the client that we are building the runway in those first few months. I help them understand that this foundational work will result in a process that builds trust and will get them in front of the right decision-makers. All the clients I have worked with so far have been receptive to this approach and have not been disappointed.
To succeed, we must align ML deliverables with our client's strategic objectives. Throughout each campaign, I keep the lines of communication open between the client and our internal team, especially the Market Research and Sales Development Specialists, providing relevant updates and recommendations. We analyze the data gathered continuously and incorporate changes in strategy and process if the data suggests we should. We run a monthly report and conduct meetings with each client to ensure we stay on target, share learnings, and stay current with any new developments that may impact the campaign or our client's operations.
There have also been great ML team experiences that help us all get to know each other better. I particularly love the ice breakers that we do before internal calls; questions like: "If you could be a villain from a book or movie, which one would you be?". When you work in a remote environment, it's those little things that help you get to know each other better and often lead to lots of stories and many laughs! I think that's been very effective in building the great culture we have here.
***
Ryan Gajdos – Client Services Manager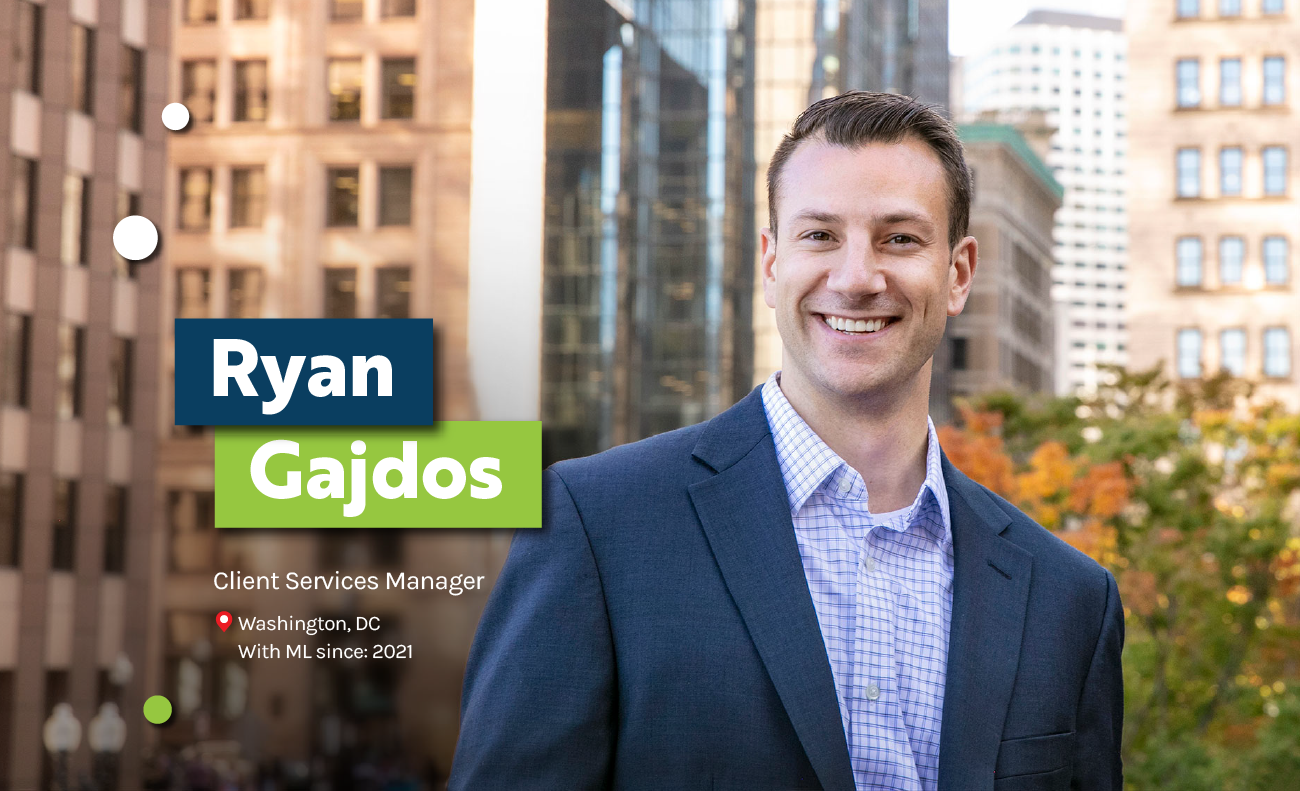 As a Client Services Manager, I head up client communication and strategy on assigned accounts. Beginning with the onboarding process all the way through program execution, I am the primary point of contact for clients. In addition, I lead regular touchpoints throughout projects and campaigns, including strategy sessions, monthly updates, team collaboration, and more.
I started with ML in April of 2021. From a professional perspective, what attracted me here was the data-centric and consultative approach the company takes with its clients. From a personal perspective, ML allows me to work from home and is flexible to changes in my schedule, which often come up with two young kids.
"The insight and direction we provide help clients make real business decisions and pivots in their go to market strategies."
ML has a strong client base. Many have been clients for years and often refer us into other accounts or business units. This proven dedication to clients was another deciding factor for me to join ML. Here's an example. ML has worked with one of my clients for over a year now. That company recently took a major leap forward when a larger organization acquired them. Our contacts asserted that the great work ML has performed to generate new business opportunities for them was a contributing factor. They have also re-enforced with their new parent company the ROI we have created; because of their recommendation, we will continue to work with them as part of their new organization.
The insight and direction we provide help clients make sound business decisions that are rooted in data, and sometimes result in pivots to their go-to-market strategies. That responsibility can create a lot of pressure. But more than any other company I have been a part of, ML stresses the importance of collaboration and preparation, so the insights and direction we ultimately share with the client are a product of numerous internal discussions and strategy sessions. For example, when we produce Market Assessment Reports at the end of a 6-month pilot, those report delivery calls are preceded by several internal strategy sessions to ensure all teams are aligned on data, results, recommendations, and more.
My favorite ML memory so far was spending time in Boston for a photoshoot with Lara Triozzi, Michelle Haarde and Kati Bannish. It was a fun way to spend a day out of the office getting to know some of my colleagues face-to-face rather than from behind a computer screen.
***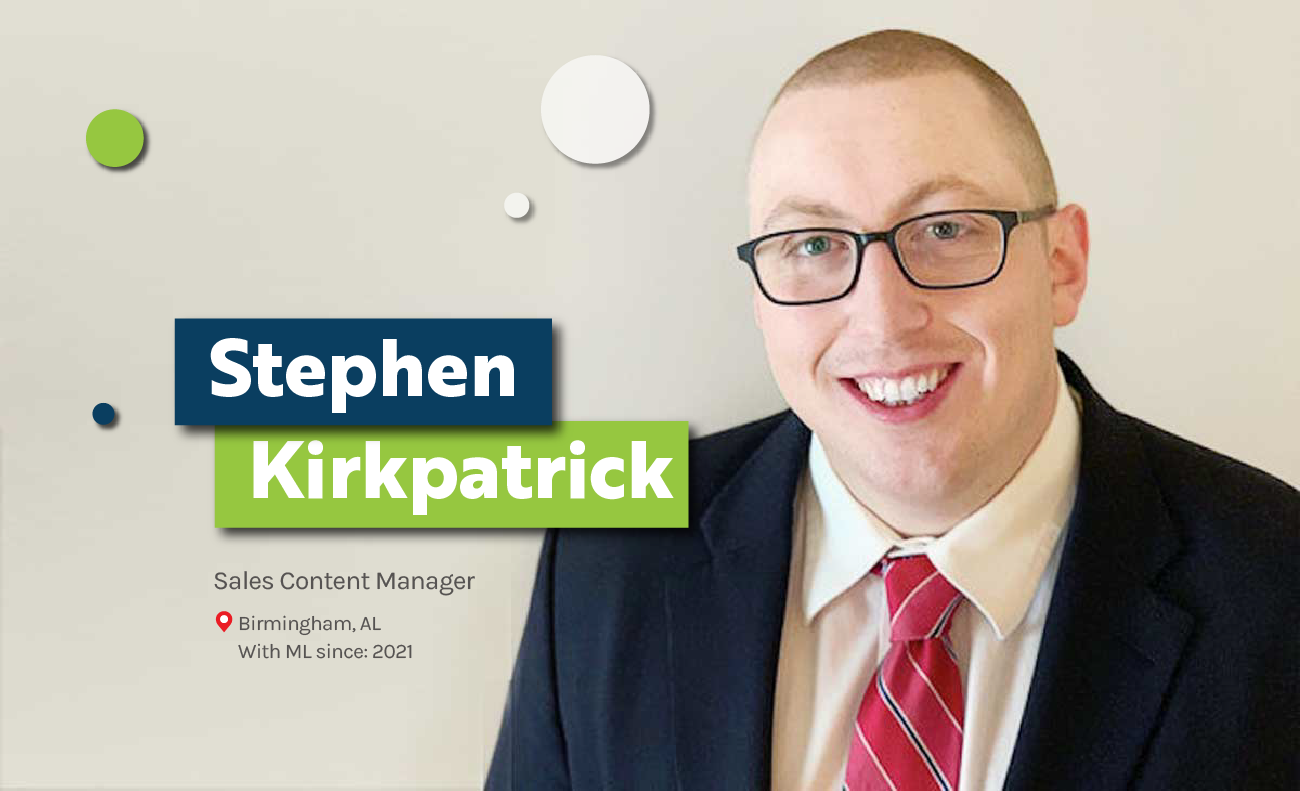 I started with ML in January 2021. I was drawn here mainly because of four reasons:
As a Sales Content Manager and Client Services team member, I help companies in various industries craft effective sales messaging. From call frameworks to email content, I translate value propositions so that they resonate with targeted audiences.
"At ML, I'm lucky to have the chance to work with some ground-breaking, highly innovative companies."
At ML, I'm lucky to have the chance to work with some ground-breaking, highly innovative companies. It's fascinating to learn about these products and services, many of which are disrupting their industries.
One thing I especially love about my role is the collaboration with clients. I love supporting groups to overcome roadblocks concerning their strategic sales messaging and deliver the value of getting them over those hills.
My favorite ML memories – so far – are our Client Services morning coffees and happy hours (all virtual, of course.) They are a great way for our team to socialize and discuss non-work-related topics.
***
Thank you to the entire team for everything you do!
I always say that one of the main desires that drove me to start ML was because I wanted to be surrounded by smart and interesting people. And here I am, 20 years later, surrounded by smart and interesting people doing their genius work.
I am grateful to the entire team for all they do to help ML and our clients succeed. That includes our long-term team members who have grown right along with the firm and our new players who recently joined the game, bringing fresh ideas and energy.
We are still enjoying record-breaking sales and have open positions we are looking to fill. Check out our Culture and Careers page if you think you would be a good fit to join our fun and fabulous team.
Until next time,
Lara