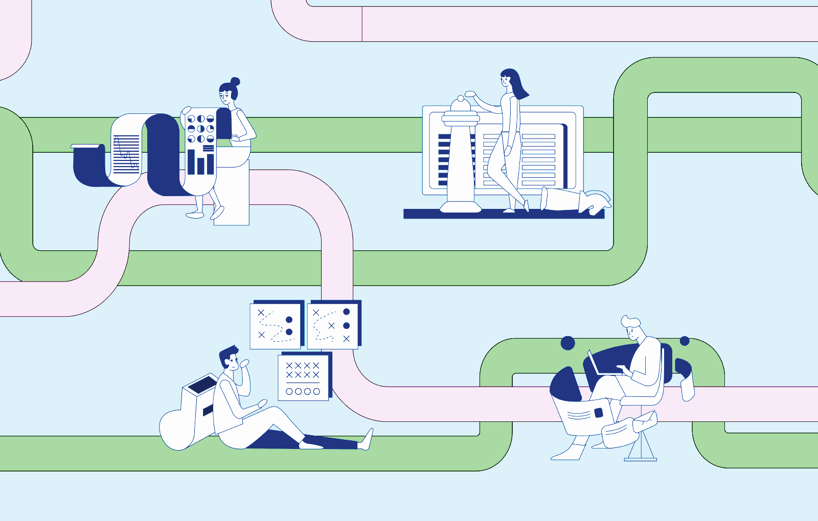 If you're not hitting your sales goals, it might be time to look at your business development strategy and the foundation on which you're trying to build growth.

Do you have a systematic process for developing and progressing leads? Can you track your sales activity at every stage of the process and interpret the results? Do you have the right reporting tools in place to give you actionable insights?
You know you're on your way to a healthy sales pipeline when you can track your leads, automate your outreach, gain insights to inform your marketing strategy, accurately forecast sales and establish predictable revenue. In order to do that, you have to give your team more time to sell and arm them with a surefire strategy for success.
We believe there are four key cornerstones of every great sales development plan. We call it the "diamond approach". We invite you to take some of our ideas and establish a sales infrastructure that will give your team a cutting edge.
1. Strategy
Every great achievement begins with a well thought-out strategy. At MarketLauncher, we kick off every program with a comprehensive playbook that contains the strategic elements needed to guide a sales team's efforts. This includes plans for everything from outbound messaging and inbound lead development to protocols for passing leads from marketing to sales.
To build that playbook for your in-house team, you need the following:
Conduct research to understand the full scope of your market

Identify your ideal client profile and then drill down to decision-maker job titles and functional areas of responsibility that align with your typical customer needs.

Fully understand your audience's needs and pain points

Define your value proposition and key differentiators as they apply to different segments

Examine market conditions, competitors, and any factors that could influence your prospect's buying decisions

Develop a list of qualifying questions to verify decision makers, and a list of deeper questions to uncover their needs

Anticipate potential objections and how your sales reps should respond

Discuss the data points to be captured in order to track progress
2. Process & Reporting
While a strategy is a road map that defines where you want to be, a process lays out the steps for how you will execute. If this is still being done across spreadsheets and emails, then it's time to step it up. You may already have a CRM in place to organize your contacts, but are you using it to its full potential? Is it providing you with the data you need to help your team sell better?
Many companies use a CRM but have a messy database and an unclear process that can't be replicated by every sales rep. How do you clean things up?
Analyze your existing database and how it compares to the full scope of your target market. With HubSpot Sales Hub, you can categorize your leads by lifecycle stage and lead status. While this initial clean up may be a time-consuming process at first, it will give you full visibility into your pipeline and will help show your team where they should focus their attention.

Automate

the step-by-step tasks your sales reps need to take in order to move leads through the pipeline. Once you've defined your process, HubSpot will put it into action and guide your team's priorities. From workflows to email sequences, you can optimize the platform for your lead development efforts and then scale the process across your business.
Closely track productivity. Create user-friendly dashboards, deal pipelines, and analysis reports with the key metrics you need to report progress and ROI to stakeholders.
Read our last blog for a deeper how-to on HubSpot's sales enablement capabilities.
3. Messaging
You have your value proposition and general sales pitch on lock, but do you adapt your brand voice to specific buyers and their needs? Potential customers respond very differently to a marketing message than to one coming directly from a sales rep – and your messaging strategy should meet them where they are.
Make sure your sales team understands, not just your company pitch, but the entire brand journey so they can customize the story for a sales approach. That includes email outreach. You can prepare email sequences and templates in HubSpot that can be personalized for every audience group and lifecycle stage.
Some of the types of emails you should have ready-to-go for your sales team are:
Email sequences that can be sent after calling a prospect

Targeted email sequences that can be sent to specific titles, industries, or verticals within your database

An email template for prospects who showed an interest

An email template for prospects who said they may be interested in the future

An email template for prospects who were referred by someone else
Of course, HubSpot's email tracking software includes everything you need to measure the reaction your audience is having to different messages. Keep your eye on open rates and click-to-open rates to optimize as you go. Over time, you'll be able to pick out certain phrases and content that resonates with your buyers, which can be valuable for both marketing and sales.
4. Coaching
With strategy, process, reporting, and messaging in place, your team has the tools they need to roll out a predictable model for success. Establishing any new process takes some getting used to, so your team will need coaching to pick up these new practices with confidence.
If HubSpot, or your CRM of choice, is already set up to give you full visibility of your pipeline, it will also give your sales reps clarity on how they should manage their time. We integrated Databox with HubSpot to provide our team with productivity trackers so they each know exactly where they are at any given time on the necessary touches needed to get to a qualified appointment.
Sales coaching should never be a one-time training. MarketLauncher's Talent Manager spends a lot of time working with each of our Specialists to remind them of these critical success factors:
Always call with a purpose; be relevant in every outreach

Prioritize reactors; follow up consistently with the prospects who have shown interest

Research companies; find a link between their initiatives and your offering

Align your approach to the buyer's journey; the further along a buyer is the more specific you should be in your message



Launching Your Sales Pipeline
We've learned that our diamond approach helps set our team up for success every time we on-board a new campaign. The process is so well received by clients that we recently launched a new service offering so that clients who don't need MarketLauncher's end-to-end prospecting services, can still benefit from our expertise.
MarketLauncher's Sales Launcher engagement model sets up the four cornerstones of a successful lead development strategy and turns it over to the client's in-house team to execute.
As a Certified Platinum HubSpot Partner and Databox Premier Partner, we know what to track in the early stages of a sales pipeline and how to use the data to optimize performance. Having executed 100's of campaigns over the past 19 years, we are able to set benchmarks that provide insight into whether or not the KPIs from your outbound efforts are what you should expect. Feel free to reach out if you'd like to gain the advantage of our expertise.