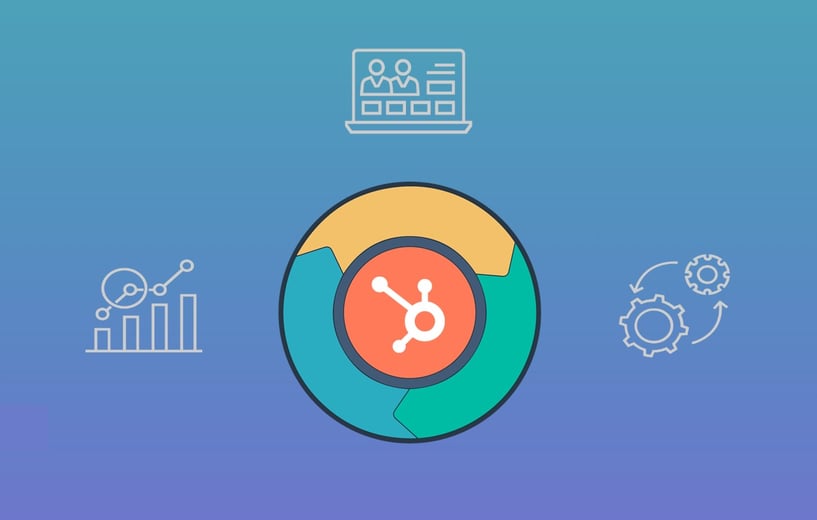 When you think of HubSpot, you might think of it as primarily an inbound marketing platform meant to attract leads and manage campaigns and content – but it's so much more than that. HubSpot's Sales Hub software takes it a step further by providing the tools to know your target audience, automate tasks, and close more deals. In fact, it's become the backbone of how we strategize and manage our proven outbound sales process here at MarketLauncher. As a HubSpot Certified Platinum Partner, Sales Hub is our fundamental relationship-building tool that allows our clients to track their entire sales and revenue pipelines, drilling down to every prospect interaction. Simply put, it keeps our flywheel spinning.
It's no secret that inbound simply isn't enough as marketing channels become oversaturated and active leads need more than marketing to make a purchase. Whether you already use HubSpot or another CRM, Sales Hub can empower your team to sell better and faster with less friction for your people and your potential customers.
Consider these three essential HubSpot Sales Hub capabilities to propel your sales enablement strategy:
1. Reporting & Analytics
To get the full picture of your sales team's success, Sales Hub's dynamic dashboards and reporting tools give you an up-to-the-minute view of how your pipeline is progressing. From call outcomes to connection rates, you can set up customized dashboards that standardize your reporting and tie the real-time numbers back to your original goals.
At MarketLauncher, we set up flexible dashboards for our clients that track their entire lead funnel and lifecycle stages for each company and contact. You can track booked meetings within a variety of different parameters that let you zero in on performance on a particular day or zoom out to see how activity has ebbed and flowed over the course of weeks or months.
If you're unsure how many touches it takes to book an appointment or need to find your sweet spot of phone calls to emails, HubSpot's analytics tools are a great way to build a predictable model for success that is specific to your business.
But, it still requires a bit of man power to gain the insights you need. HubSpot makes it easy for your team to document conversations in granular detail and note when leads progress from proposal to closed. In this way, you can pick up on patterns across verticals and time periods. You can even view the top 20 conversations to gauge market response and use email metrics to track what specific messages are working.
With individual visibility for sales reps and a birds-eye-view for leaders, teams can stay focused and accountable for their role in driving success.
2. Automation
Ever wish you could just give your team more time to sell? HubSpot Sales Hub removes the day-to-day obstacles that hinder productivity. There are two primary ways they make this possible, with Sequences and Workflows.
Sequences
It's virtually impossible to keep up with the right cadence of phone-to-email outreach on your own or with spreadsheets. Sequences let you automate your follow-up emails, time them, and personalize them for the right people. Start by writing emails for each vertical, decision maker, or topic and upload them as templates. You can then create sequences with multiple emails or use them one-off to follow up your calls. Personalization tokens let you input company-specific information into the templates and pull in documents and marketing collateral to deliver more value. Keep your eye on the metrics to see what's working and optimize accordingly. You can learn more tips for crafting the right emails in our past blog.
Workflows
Workflows put time back into your day and prevent prospects from slipping through the cracks. You can set contact-based, company-based, deal-based, ticket-based, or quote-based workflows with specific triggers and actions for each. For example, if a contact clicks on your website or opens an email, you can set a workflow that immediately alerts a sales rep to follow up on the phone or triggers an email sequence to go out. Plus, you'll have more context into the messages they're reacting to so you can follow up with a topic that suits their interests.
With workflows, you can easily create reminders for hot leads who need immediate outreach, MQLs who need another touchpoint, or FANs of your brand who need to be reengaged. Approach it as a personal to-do list, with each task based on real activity from your contacts. Thus, prospects can move smoothly through each lifecycle stage and your internal process can run without the busywork.
3. Lifecycle

S

tage

P

rogression

& Lead Status
Achieving marketing and sales alignment is made possible with lifecycle stage and lead status capabilities. They help you ensure that you're reaching the right decision maker at the right time with the right message.
Lifecycle Stages
Lifecycle Stages let you track leads from the moment they interact with your brand until you close the deal. Identify where a contact is in your process by organizing them within the sales cycle: subscriber, lead, marketing qualified lead, sales qualified lead, opportunity, customer, and evangelist. You can set this automatically, but we prefer to manually update the lifecycle stage so we can classify them based on conversations rather than triggers. In this way, you don't have to feel tied down to the stages defined by HubSpot, and can choose to use the ones that apply to your business.
Lead Status
Within Lifecycle Stages there can be a gray zone. Perhaps a lead becomes an SQL, but they haven't taken enough action to become a deal. Don't let them get lost in the shuffle. Lead Status is a way of describing the sub-stages within a sales qualified lead to define whether or not they make a good fit. Lead status properties include New, Open, In Progress, Open Deal, and Unqualified -- but you can also customize them to work with your sales team and process. Here at MarketLauncher, we've added the custom properties of Developed, Engaged Current, and Engaged Future to fit the way we think of and interact with prospects.
Through both Lead Status and Lifecycle Stage, you can also create saved filters based on the available properties for a clean list of decision makers who are in the same place, so you can prioritize and organize your outreach.
HubSpot Sales Hub is the ultimate sales enablement tool, but automation can never replace people and process – it can only show you the way towards success. If you're selling a complex product or service to executive-level decision makers, you need to be supported by an experienced sales team and a proven outbound process. Find out how MarketLauncher brings these essential elements together with our HubSpot expertise to help clients accelerate their sales pipelines and sell better.