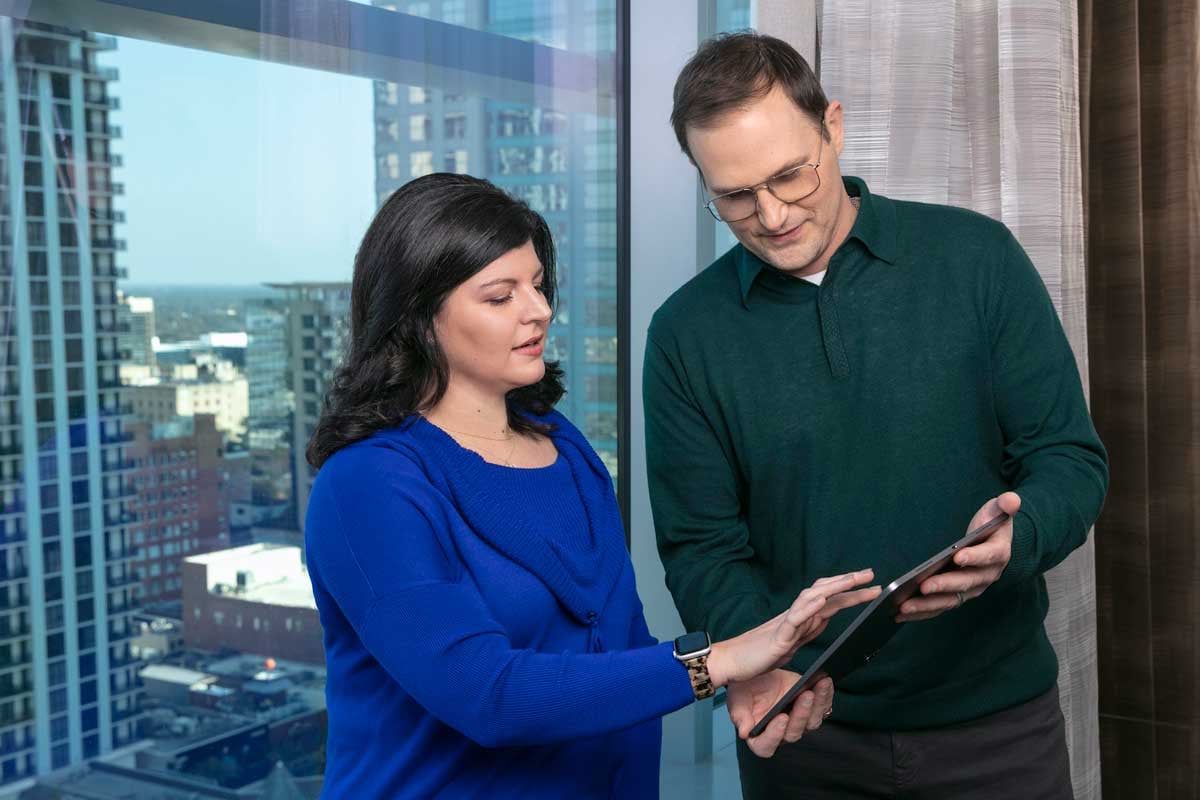 Buyer behavior is constantly changing, and with it, best practices for conducting sales outreach. Today, decision-makers are bombarded with demands on their time, and breaking through the noise is a daunting task. How can companies most effectively turn leads into qualified sales opportunities? Hint: cold-calling and mass emails are no longer the answer.
B2B prospecting that drives results focuses on building an engaged audience through consistent and personalized customer outreach strategies.
A Successful Customer Outreach Strategy that Worked for Our Client
We saw this come true with a client who has been working with MarketLauncher for more than 10 years. The buyers for their services are CEOs of mid-market companies.
Traditional, cold outreach was failing. Leads came in, but they weren't converting to sales meetings. So our team took on a challenge: how could we make sure the leads we brought in and nurtured for our client were ready to buy?
To move leads deeper into the sales funnel, we focused on leveraging our client's existing content strategy to engage and educate prospects. As a result, we saw 70% of inbound leads move deeper into the sales funnel, more than tripling the previous number of sales opportunities. Those are some serious results, and all it took was a shift in our B2B prospecting strategy.
It used to be that a series of phone calls, follow up emails, and a few well-crafted voicemail messages got the attention of and yielded meetings with executive-level decision makers. We had 16 years of data that showed if you have the right message aimed at the right buyers, a linear approach applied in a systematic way would yield consistent results. A few years ago we began to notice some shifts in the metrics and we saw that our activity was no longer producing those same consistent results.
Traditional B2B Outreach Tactics that No Longer Worked and How We Overcome Them
Working with our client, we began to crunch the numbers. What was working? What wasn't? And most importantly, how could we fix it? At the foundation of our case study we uncovered three trends that raised a big red flag:



Red Flags
Touchpoints increased
Over the course of 18 months, the number of touch points needed to yield responses increased from an average of 6 to an average of 12
Avg. response rate dropped
In that same period, the average response rate decreased from 22% to 11%
Conversion rate dropped
Overall conversion to meeting declined from 3% to 1.5%
The relationship between increased touchpoints and decreased engagement was striking. If we continued with a linear approach, it would have taken us twice as many touch points to reach half the number of prospects. That meant our client would have to invest significantly more dollars, only to achieve the same results.
We also noted that leads generated from cold outreach were coming into the sales funnel too early - they were not yet "educated buyers" or ready to engage in the sales process. It was taking more effort to reach these buyers, and we were yielding less results.
Effective Sales Strategies that Generated Results
So if prospects weren't ready to meet with sales, how could we get them there? The answer was developing consistent, repetitive outreach centered around our client's existing robust content strategy.
Nurture Engaged Prospects
We focused on nurturing leads that were already showing interest by engaging with content. For those engaged prospects, we developed highly personalized, targeted follow-up to start a conversation and to develop relationships.
Content Outreach Strategy
Our strategy revolved around using content to engage more leads, shifting away from cold calling and instead increasing touch points to those engaged leads. Using content-driven lead nurturing, we were able to reverse the downward conversion trends.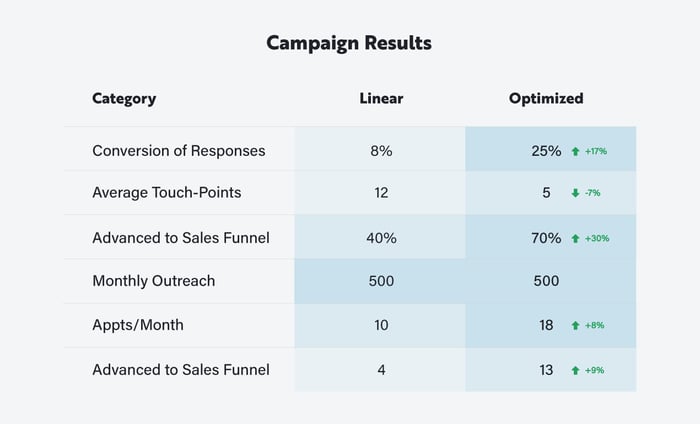 Conversion rate increased from 8% to 25%, even with the same amount of monthly outreach.

The average number of touch points needed to generate a response went from 12 back down to to 5 under the optimized campaign.

Most important, 70% of leads advanced to the sales funnel versus 40% previously. That's significant improvement, and it meant the volume of sales opportunities created for our client tripled!
But we didn't stop there. In the next year, we doubled down on this new B2B prospecting approach. To increase conversions, we focused on what we could do to have more impact at the top of the funnel. Working with the same client, we took the following approach:
Top of Funnel Outreach Strategy
We built up our client's audience from 27,000 to nearly 44,000 readers to put our client's content in front of more leads within their target market.

We then focused our outreach on following-up with leads that showed the most engagement. We used targeted email outreach to point prospects toward blogs to educate, shape and inform.

We followed-up with blog readers with a strong call to action, leading to higher response rates throughout the year.
Outreach Strategy Results
Year 1

: 21% of the qualified prospects moved into the sales pipeline, and 11% closed.
Year 2: 71% of the qualified prospects moved into the sales pipeline, and 25% closed.
The lesson here is that content-rich B2B prospecting strategies are leading to greater success. They result in educated buyers with a developed interest in a company's product or service who are ready to meet with sales. By leveraging content, you will be able to get in front of more decision makers at the right time in the buying cycle. Engaged leads convert more often and advance further into the sales funnel.
What is B2B Prospecting and Why is it Important?
On paper, B2B prospecting is a sales strategy for turning potential customers, or leads, into buyers. But really, it's more than that. B2B Prospecting is about building relationships. It's about getting to know your audience and connecting and sharing your brand's unique perspective, expertise, and solutions in a way that meets your target customers' specific needs.
The B2B Prospecting Relationship
You can build an awesome relationship by consistently creating and sharing relevant content with your prospects. For example, after someone expresses interest in your company, maybe by downloading a white paper or subscribing to your blog, the relationship-building process begins.
Through phone calls, emails and targeted follow-up, prospecting aims to establish a dialogue, even if it's one-way, that moves those engaged leads deeper into the sales pipeline. It's all about strategic, ongoing outreach that addresses your prospects' needs and shows them that you're a helpful resource. Once that relationship is built, they'll feel more confident in who you are and be more likely to invest in what you have to offer.
As with any worthwhile relationship, prospecting takes time and isn't a "set it and forget it" kind of endeavor. It's not enough to just generate leads. Those leads need to be developed, or nurtured, until they are ready to speak with your sales team.
Even though executing an outreach strategy requires resources and effort, the end result means more qualified leads, and more conversions. Without it, leads brought in by the marketing team aren't converted into sales opportunities, meaning missed potential revenue. Getting to a sales meeting takes more touch points than ever, which is why consistent, optimized outreach is key.
B2B Prospecting is a Marketing and Sales Collaboration
Prospecting takes place in the space between marketing and sales. Marketing teams are focused on creating awareness and using content to promote a brand's point of view, establish thought leadership and educate buyers. Sales teams work to engage with buyers and close deals. Companies are seeing diminishing results because they're not spending enough time developing and converting leads in that space in-between.
Marketing efforts, when executed well, should bring in leads from many channels, including organic search, blog and gated content, email, events and webinars, and social media. But these valuable marketing leads slip through the cracks if they don't receive enough follow-up. Follow-up creates connection – and connection helps create, you guessed it, the relationship.
Studies have shown that 80% of sales are made on the fifth to 12th contact.

But here's the real head-scratcher: the average sales person will only make two attempts to reach prospects generated from inbound leads. This means that filling the gap between marketing and sales with targeted outreach that ups the number of touch points is a necessity.
How to Successfully Perform B2B Outreach for Sales
The key is to create targeted and content-driven outreach. In today's buyer market, companies need to engage with prospects that interact with content consistently over extended periods of times.
How Should Sales Interact with Engaged Contacts?
You've worked hard to develop relevant and engaging content that connects with your target audience. When a prospect shows interest or interacts with your content, reach out to them directly! This is a great time to get to know a prospect's needs and goals so you can determine how best to reach them going forward. Your call to action can be done through email or with a phone call, but the sooner you reach a lead after they engage with your content, the better.
How to Nurture Prospects
To get prospects to that final stage, you have to keep the conversation going and make sure your company stays top-of-mind. This is where you can use content to drive engagement, increase knowledge and ultimately convert educated prospects. You can nurture prospects across many channels, but one effective medium is targeted email outreach.
Lead Nurturing Examples
An email nurture campaign could look like this: a prospect visits your site and downloads a case study. Now that you know they're interested in that particular type of content, product or service, send a follow-up email featuring additional related content. Show them you know what they like, and that there's more where that came from.
When is a Prospect Ready to Engage with Sales?
When a prospect has shown interest in those lower-funnel pieces of content, like case studies or product demos, they are what we like to call burning hot🔥. And are likely ready to start engaging with a salesperson. Make sure your sales team has an updated list of all contacts who have shown repeated interest in what you have to offer.
How to Build a Bigger Audience
Companies can use existing content to build out and nurture a larger audience. After researching organizations and decision makers within your target audience, develop nurture campaigns filled with content that educates and engages. Regular audience development work keeps the top of the sales funnel full and reaches new buyers.
How Often Should you Follow-Up with a Lead
A question we hear often is: "how frequently should I be reaching out to prospects?" A lot more than you think. We found that to book an appointment it takes:
5.8 touch points to book a meeting with new prospects who are added and booked within the first 6 months
13 touchpoints for contacts who are added and booked within 6-12 months
9.3 touchpoints for webleads, from the time of form completion to booking
21 touchpoints for contacts added over 12 months ago
Engaging the C-Suite Executives
We specialize in prospecting to the C-suite and have found that even when a CEO fills out a web lead form, it still takes an average of 9.3 touch points to get a meeting. It's important to note that it's not just the number of touchpoints that make a difference, it's also the type. To achieve results with your B2B prospecting, content needs to be high-quality and targeted to the right individuals. Simply blasting out emails will do more harm than good.
Related Blog Post:
5 Tips for Engaging the C-Suite to Create More Sales Opportunities

Final Thoughts
Whatever you do, make sure that your content is addressing prospects' concerns and pain points. And it is equally important that the person who is following up with the prospect has the right amount of business savvy and industry knowledge to have a high-level conversation with an executive decision maker.
At ML, we specialize in helping B2B companies develop an effective prospecting strategy based on the latest market trends. We reach executive-level decision makers for our clients through audience development, inbound lead development, sales appointment setting and market research. Prospecting can be a challenge, but we draw on our years of experience to help clients achieve their goals.
Learn more about how we help complex B2B companies and request a sample report here.