We were recently asked to state our point of view on digital marketing strategies and how they could be used effectively in the B2B space for lead generation and prospecting.
In thinking through the question, we realized there had been a slow, organic build toward integrating our clients' digital marketing strategies with our ongoing targeted prospecting. Ultimately, as a result of integrating the activity, the result has been an increase in output and return-on-investment on both sides.
What do we mean by "Digital Marketing Strategy?"
Today, there are many different ways to reach a decision maker. Subsequently, there are many different ways for that same decision maker to proactively seek out information, including
search engines

webinars

downloadable white papers

blogs

opt-in email marketing
A motivated buyer looking for information to relieve a pain, build a business case or understand an emerging trend can have information readily available on their computer screen.
B2B marketers have figured out that digital strategies are no longer just for companies looking to reach the consumer masses. With relevant content presented in the right context, B2B marketers can take advantage of a broader, yet still highly targeted, reach that digital platforms offer to get their message out to decision makers and influencers and create more demand.
Leveraging Integrated Lead Generation
In recent months, MarketLauncher has witnessed more and more of our clients beginning to integrate digital strategies into their overall B2B marketing and sales programs. As a result, ML's activities have shifted to leverage these new channels.
Clients like Navtrak, J.D. Powers & Associates and The Forum Corporation have been on the forefront of integrating a B2B digital marketing strategy with their more traditional means of building awareness and capturing a prospective client's attention.
These clients quickly figured out that the targeted outreach ML was already doing to help drive qualified prospects into their sales funnel could be effectively leveraged by integrating that activity with key aspects of their digital marketing strategy.
Ultimately, where these clients saw impact was on both ends of the spectrum .
Combining Digital Marketing and Prospecting Increases ROI
By working both sides of the digital strategy, ML is able to increase ROI for all activity aimed at building awareness, educating the buyer, creating demand, pre-qualifying the need and ultimately initiating the sales process.
Once a prospect becomes part of your digital community, ongoing outreach can be cyclical, relevant and evolve as new trends emerge.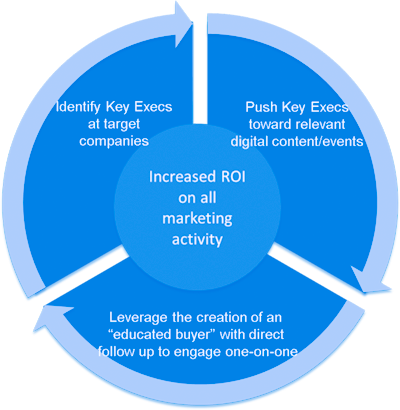 ML's value proposition has always centered on helping clients better leverage their sales assets. For ten years, ML has helped clients accelerate their growth strategy by driving more leads into the sales funnel. Digital strategies allow us to reach more people in a shorter amount of time and create more "hand-raisers" by monitoring and then quickly taking action when interest in specific content reveals a potential need.
We often hear from clients . . . It's great that we have all of these people coming to our web site, reading our blog and opting into our email newsletter. But now what do we do to turn those into real sales prospects?
This is where ML comes in: We do what you wish your sales team had the time and/or inclination to do. We take the output that your digital strategy has created, which is essentially the identification of a possible prospect who has revealed interest in information relevant to your business proposition, and take actionable steps to turn them from a "viewer" into a "participant" in the official first stage of your sales process.