In previous blogs dedicated to making your outbound marketing tactics more strategic, we talked about developing a list of suspects and turning them into validated prospects. We then discussed how to get the attention of a busy executive with relevant messaging and content.
Now it's time to focus on getting your prospects to engage in a conversation with a multi-touch, multi-channel outreach program.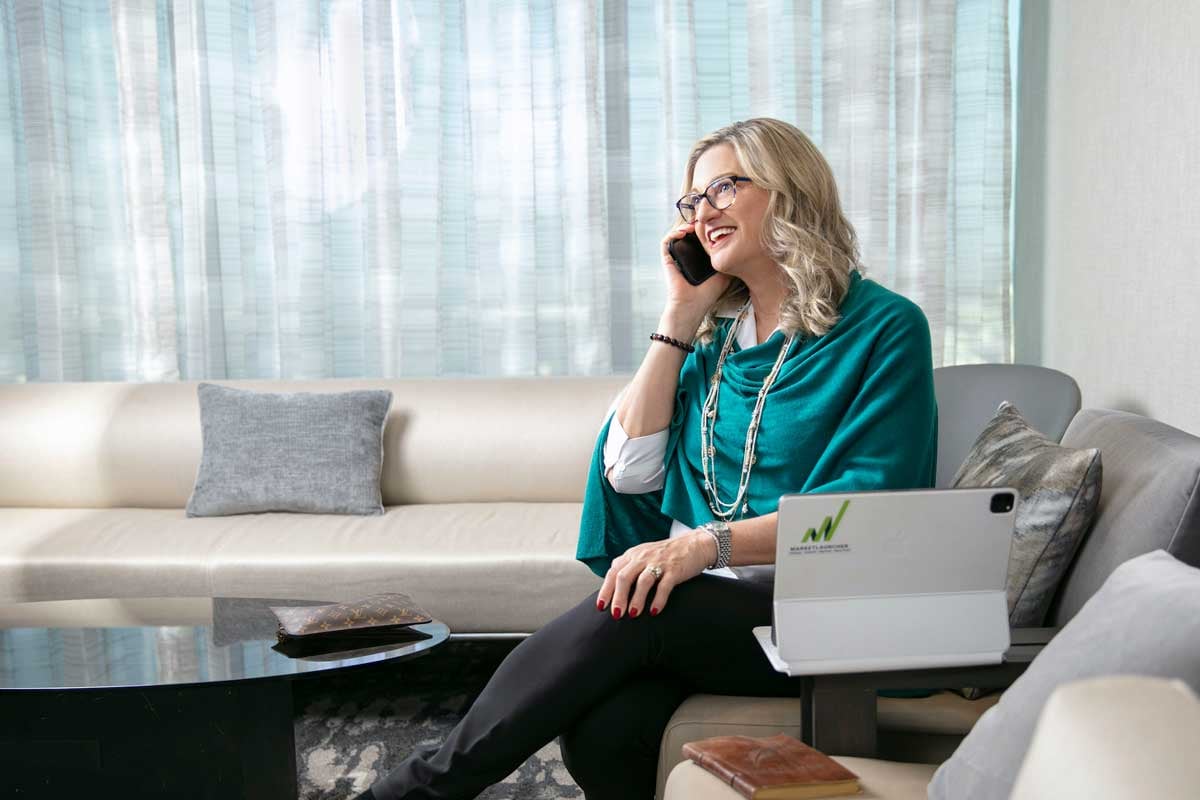 What Role Does Multi-touch, Multi-channel Outreach and Engagement Play in an Outbound Marketing Strategy?
This high-touch program involves using different tools to connect with your prospects. Multiple touchpoints are required to turn leads into sales meetings. Being aligned with your internal teams and their outreach strategies will help shorten the process.
B2B prospecting and outbound marketing is about building relationships, and email, telephone, and SMS texting are effective tools to do that.
Outreach and Engagement as a B2B Marketing Best Practice
To convert prospects to a sales meeting takes multiple touchpoints. The actual number depends on various factors. Our experience conducting strategic outbound marketing for over 20 years shows that it takes 6 to 8 touchpoints to reach a prospect and 10 to 12 touchpoints to convert that complex sales lead to a meeting.
That's a significant number.
Research shows that the average salesperson only makes a couple of attempts to engage a lead. Since it takes many touchpoints to get to a meeting, that translates to missed opportunities.
Strategic outbound marketing and multi-touch, multi-channel outreach and engagement are best practices that will get you in front of the right decision-makers.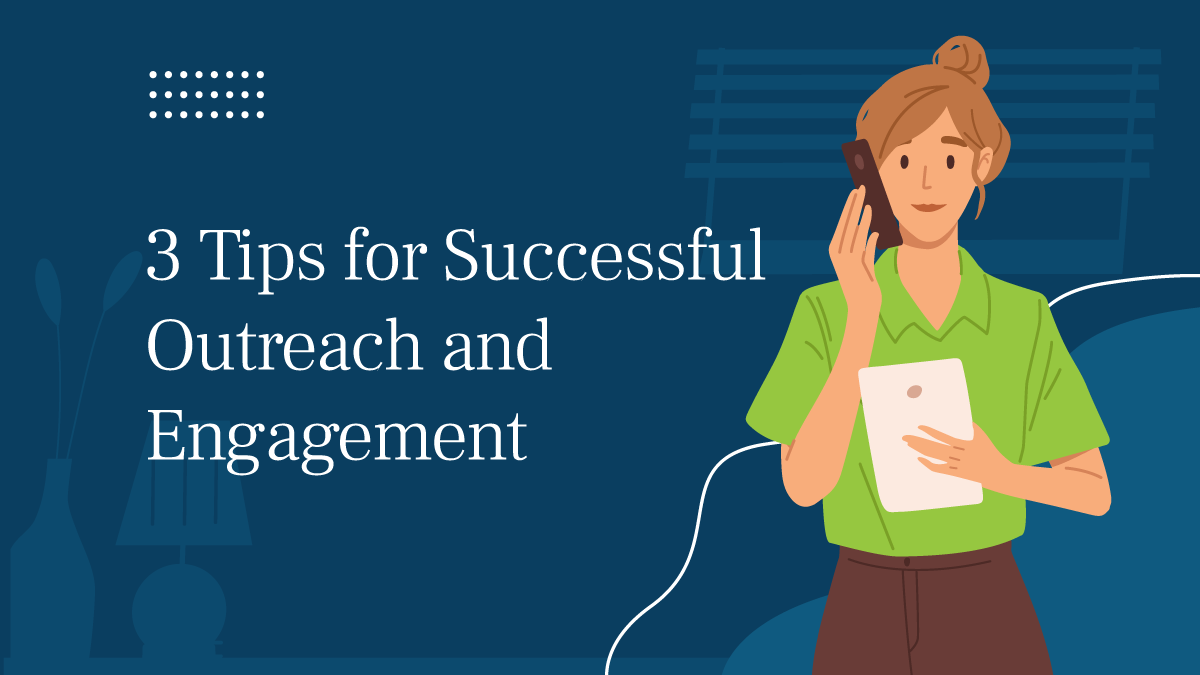 3 Tips for Successful Outreach and Engagement
Before you begin, determine the proper outreach schedule. It's a delicate balance between staying top of mind and being overly persistent to the point that your prospects start to ignore you. In our experience with executive-level and c-suite contacts, should send only one email per month, and it should provide something of value versus just asking for a meeting. Phone follow-up should happen once every 90 days unless the prospect increases their engagement with your email content. In that case, you should follow up right away.
Of course, that number can differ due to many factors, including the industry you serve, the level of need in the market, and brand awareness. So be sure to analyze results and pivot your outreach based on your findings.
Here are three tips to help you create a successful outreach and engagement program.
Tip One: Begin Your "One Way Dialogue"
"One-way dialogue" sounds like an oxymoron. But when it comes to strategic outbound marketing and B2B prospecting, we assure you it is not. The term "dialogue" signifies a "written or spoken exchange between two or more people." So, when they react to the content you are systematically sending, a dialogue is happening. You just aren't privy to their side of it.
The result is an educated buyer who has developed an interest in your product or service because they have recognized your ability to solve a relevant need.
Strategic Outbound Campaign Example: A successful one-way dialogue 10 years in the making.
In November 2004, I met with the CEO of an export management firm. I presented MarketLauncher's capabilities, discussing ways to impact their sales efforts. I was unsuccessful at closing that deal, but we kept him on a list to receive periodic content (like this blog, for example). Over the next ten years, at least once a quarter, this prospect received correspondence from MarketLauncher and never responded. It would be fair to assume he was a lost cause. A less savvy marketer might think that continuing to reach out with content was a waste of time. But when his export management firm decided to launch a consulting service, that CEO contacted us and asked for a proposal – ten years later! Had it not been for our strategic outbound marketing tactics and a steady stream of content that was educating him and keeping MarketLauncher top of mind, it is highly unlikely we would have been the first firm he called when he recognized he had a need. Lara Triozzi, CEO - MarketLauncher
Tip Two: Maintain Your B2B Prospect List
You dedicated time, energy, and resources to building and validating your prospect list. Make sure you are keeping it up to date. Software like HubSpot makes it easy for your team to maintain and update contact information in real-time as they uncover insights. LinkedIn is invaluable for discovering where they landed when a prospect leaves a company.
Tip Three: Measure Reactions and Personalize Your Outreach in Response
Because you:
spent time, energy, and resources building the correct prospect list; and
understand your audience's challenges and have created relevant content and messaging that addresses them; and
are now conducting timely outreach,
you will start receiving reactions!
As prospects open and click through your emails or spend a bit of time on the phone with you, it's time to personalize your engagement.
For example, perhaps a prospect responded to your outreach by downloading a white paper or subscribing to your blog or thanking you for your call but saying the timing isn't right to speak. The relationship-building process has begun. It is time to move those engaged leads deeper into the pipeline.
HubSpot can automate sending content based on audience reactions. However, an experienced sales executive knows how to take that further. They will incorporate those reactions into emails and conversations, working the intel into the prospect's experiences and challenges.
Strategic Outbound Campaign Example: Using Intel to Pivot Our Outbound Marketing Tactics
Our specialists have noticed an interesting trend in the last couple of years. Contacts are asking, both LIVE when we speak and via their outgoing voicemail messages, to engage with them via SMS text. Texting is the next step in the evolution of effective sales messaging, and we have pivoted our outreach to take advantage of this new way to connect. In addition, we are analyzing our data and the results of our communication through this channel to understand best practices. So far, we've learned to keep the messages short and refer to a voicemail we left or collateral or email we sent. Don't forget to follow all privacy legislation that applies to your outreach.
Using marketing automation software combined with customized personal outreach helps you build trust systematically and efficiently. Your outreach should help your prospect feel that you understand their needs and business. Once you have created that relationship, they'll feel more confident in learning more about what you have to offer.
Is Your Strategic Outbound Marketing Strategy Paying Off?
Your activity should be generating consistent results at this stage of your strategic outbound marketing program. If not, it's time to analyze your data to understand where you need to improve. For example, are you focused on the wrong accounts, or wrong individuals? Perhaps your messaging is off, or you are sharing content that isn't relevant.
In our next blog, we will discuss the importance of analyzing your data at all steps of your sales journey so that you can quickly spot trends that signal when a pivot is needed.
Thanks for listening.
Stephen Kirkpatrick