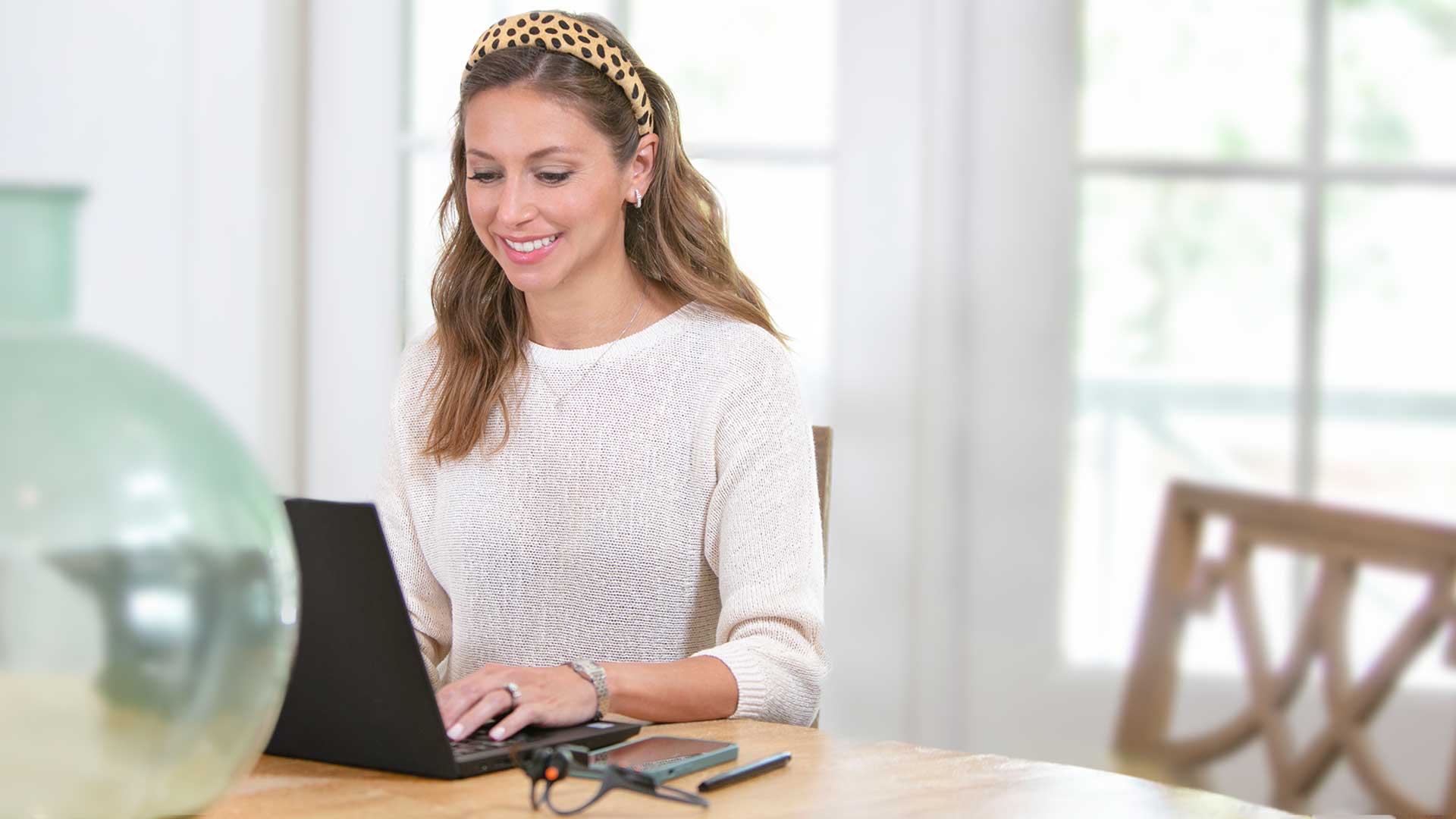 Savvy sales and marketing pros know that buyer behavior has shifted dramatically in the past few years. The customer is now the center of the selling equation, and businesses embrace personalization to capture buyers' attention in a crowded marketplace. But in the enterprise sales process, tailored outreach always has been and remains a must.
What is Enterprise Sales?
Enterprise Sales or Complex Sales refers to the process of selling to large b2b companies. The selling cycle is like no other, risks are much higher, and several departments are involved from start to finish. It is worth noting that the selling process does not end after the sale is made. Enterprise sales is a loop, and continuous dedication is required to meet client expectations.
How SMB (Small-Mid Business) Sales Differ from Enterprise Sales
For smaller SMB transactional sales, churning out demos, quick phone outreach, and email blasts may be enough. However, winning complex sales is a whole different ball game, requiring precise knowledge of your target industries and accounts and your prospects' unique needs.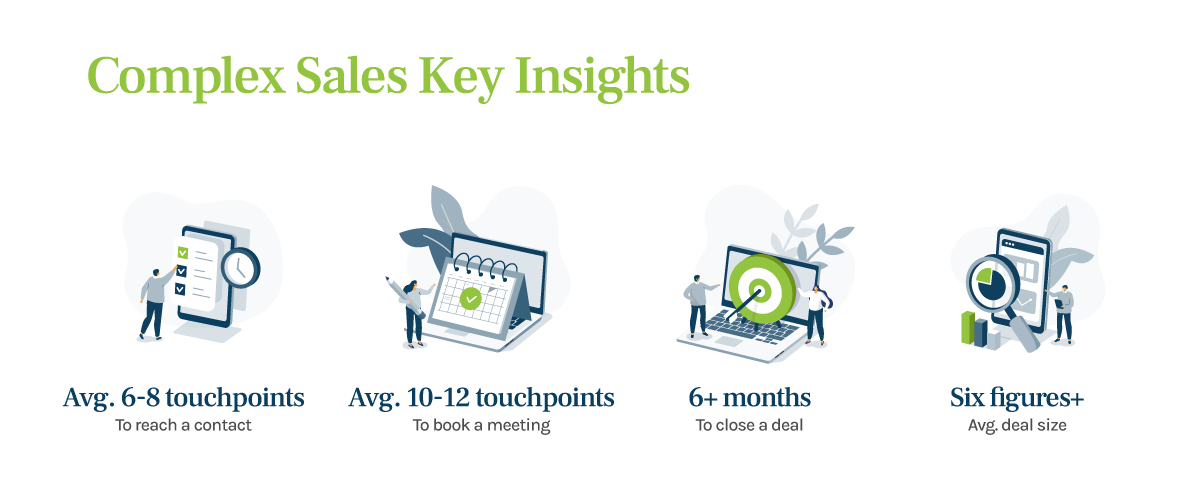 The typical enterprise sales cycle lasts six or more months, whereas an SMB transaction is shorter. As a result, enterprise sales have a higher risk factor, with deal sizes reaching six figures or more. Moving prospects to close is not a simple process and hinges on multiple conversations and gatherings of key stakeholders. Typically, it takes 6-8 touchpoints to reach a contact and a total of 10-12 to book a productive meeting.
Sales teams run into two unique challenges during the enterprise sales process:
Reaching the right high-level decision-makers within an organization
Educating buyers on how a product or service will address their specific needs
Problem #1: Reaching C Level Executives
Enterprise-level offerings come with a hefty price tag. Many stakeholders may be interested in your product, but they will never close if they don't have budget. Sales teams need to spend their time engaging people who can make a significant buying decision — or create the budget for a purchase. Not only do the c-suite or high-level executives hold the purse strings, but they also have a broad understanding of how the business operates. Their perspective gives them the ability to see how a particular offering will address a problem or pain point differently, which brings us to our second challenge.
Problem #2: Educating Customers
A complex sales process is also necessary when introducing brand new solutions to the market to solve existing business problems. Often, these problems are ones that companies don't have formal initiatives in place to address. Enterprise solution selling to early adopters is entirely different from an SMB transactional sale where prospects have a line item in their budget for a solution they buy every year. With a complex sale, sales teams must educate prospects about the benefits an innovative solution can bring and how it can address and solve a business problem.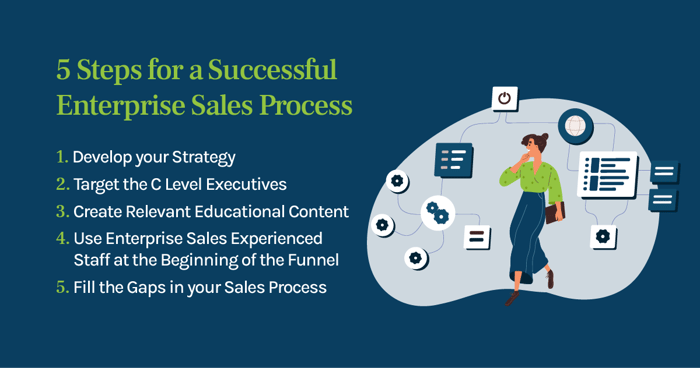 5 Steps for a Successful Enterprise Sales Process
The time to close and the effort needed to reach high-level prospects make complex sales a high-stakes endeavor. You have a solid product or service. The trick is letting the people who count know about it.
#1. Develop your Sales Strategy
The enterprise sales process requires that you be very targeted. You need to identify exactly who you're going after. To do so, ask:
What is your ideal client profile (ICP)?
What type of companies (defined by size, industry, and/or other factors) are most likely to have a need?
Where will your existing success stories have the most relevance?
How large is the scope of your total addressable market?
Does it make sense to create sub-segments with different messaging that speaks to their unique pain points?
Consider taking an Account Based Marketing (ABM) approach to reach specific companies and the decision-makers within an organization. Here is a great resource with tips and best practices to get you started with ABM.
#2. Target the C-Level Executives
Ideal prospects for a complex sale are executive-level decision-makers who sit across different business functions. As we mentioned above, these execs have budget and insight — they're the right people positioned to make a buying decision. The best way to identify decision makers is through market research and audience development. Both allow you to find your total addressable market and guarantee you are talking to a qualified audience of potential buyers. Start with these 5 Sales Tips for Engaging the C-suite to Create More Opportunities.
#3. Create Relevant Educational Content
With a complex sale, your ideal prospects may not be actively looking for a solution, so educating buyers by pushing out relevant content through outbound marketing is very important. Your content should tell the story of how your solution solves particular problems and issues.
High-level decision-makers are hard to reach. A cookie-cutter sales approach won't cut through the noise cluttering their inboxes and social media feeds. Instead, test out different messaging to find out what resonates and be ready to adapt on the fly based on data. Content that won't get ignored reflects the life cycle stage, product, market, region, and timing.
There are several different ways to reach c-level executives, including:
Case studies
Case studies are a proof of concept, showing prospects a problem and how you can resolve it. Success stories are relatable and give prospects a vision of the future.
White papers
White papers present an opportunity to take an in-depth look at industry challenges and how organizations can overcome them with your offering to achieve a competitive advantage.
Webinars
Webinars establish thought leadership and industry expertise. In addition, live webinars provide an opportunity to engage with prospects and walk-through topics of interest.
Events
Real-time demos are often a huge selling point for potential buyers. As a salesperson, you get to connect in person, answer questions, and showcase all you have to offer.
#4. Use Enterprise Sales Experienced Staff at the Beginning of the Funnel
The market scope for a complex sale is small and very refined. Top of the funnel, early-stage development is critical. You need c-level sales experienced staff working each stage of the b2b sales process to ensure you are adding value through a consultative approach.
Junior-level salespeople don't yet have the business knowledge to engage executive-level decision-makers effectively and pre-qualify opportunities. On the other hand, salespeople with years of expertise and deep industry knowledge can build and manage a pipeline of the right people and effectively nurture them down the funnel.
#5. Fill the Gaps in your Sales Process
Companies don't realize that with a complex sale, it's not realistic for salespeople to concentrate on both prospecting and closing deals simultaneously. Complex sales require a significant amount of time from your salespeople. When they're focused on closing a big deal, they have less energy to devote to building the pipeline, nurturing falls off, and the lead pipeline dries up.
Take the time to identify gaps in your process in selling to c-level executives and decide what additional bandwidth you need to execute enough touchpoints to keep your business development pipeline full.
To close a complex sale, companies need top talent on the job who can have knowledgeable, in-depth conversations with executive-level buyers throughout the enterprise sales process. When you build a base of knowledge about a company's needs and concerns, you can present your product or service in a way that captures a decision-maker's attention.
Want to learn more about building a better lead pipeline in situations that require a complex sale? Get in touch with our team. We love to talk strategy.