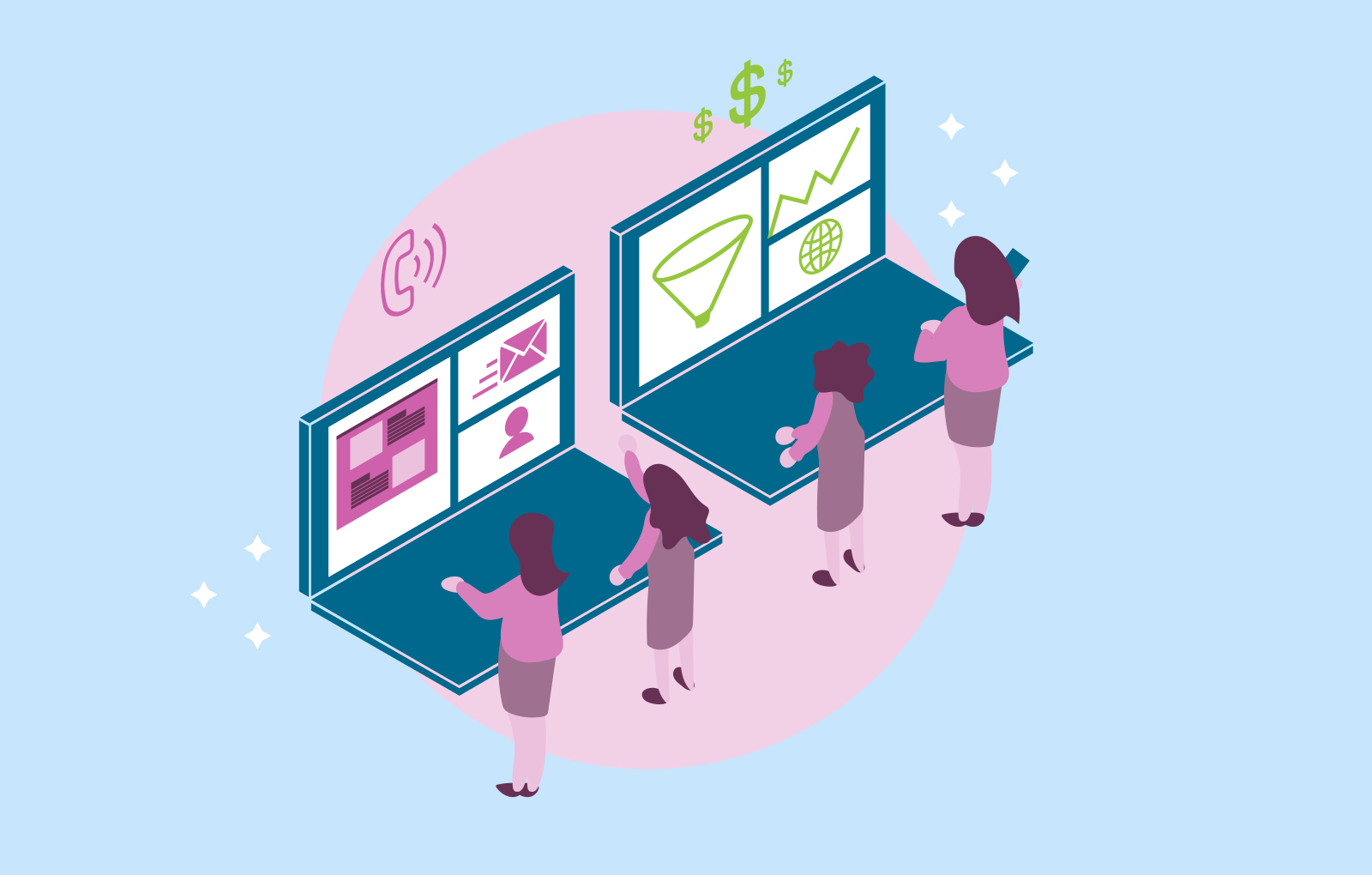 Whether your sales organization is supported by an inside team, or you use a partner like MarketLauncher to fulfill the inside sales role, both inside and outside sales need to work hand-in-hand if you want to turn leads into the right sales opportunities. Together, two teams aligned to the same goals can achieve more wins.
Some companies position inside sales as part of the marketing team, and there's nothing wrong with that – but at a minimum they should work in tandem with outside sales. Ideally, they should bridge between the two, leveraging the activity created by marketing to help the outside sales team focus on the right opportunities at the right time.
Here is how we believe inside and outside sales should work together to meet sales objectives:
Inside Sales - The first step in building a sales pipeline is top-of-funnel prospecting. These specialists work to convert leads to sales opportunities and leads can come from both inbound and outbound efforts. Your marketing team should be creating market awareness and driving inbound leads by capturing the attention of buyers who are actively looking for solutions to a problem. Meanwhile, a targeted outbound effort will allow you to accelerate your exposure to target accounts by putting your message precisely in front of potential buyers at every stage of the buying cycle, rather than waiting for them to find you.
Inside specialists are on the front lines, making phone calls and sending custom, personalized emails to start a dialogue. These conversations are necessary to determine needs, challenges, and purchasing power. Inside sales specialists are tasked with deciding whether or not they have identified the right person and asking the important questions to qualify a prospect for a potential sale.
Outside Sales – Once the right opportunities have been identified and teed up to enter the sales cycle, the outside team steps in to move the opportunity forward and ultimately close the deal.
They focus on the opportunities that are most likely to close and are often in the field, meeting prospects in-person, sharing their depths of knowledge, and ideally positioning themselves as a trusted adviser to the prospective buyer.
No matter how you structure your sales team to manage these two functions, they need consistent collaboration to keep the wheel spinning. You can help your teams achieve their full potential by following our rules of engagement between inside and outside sales.
Rule 1: Establish

steady

collaboration
Above all else, the key to sales team alignment is collaboration in real time. Most of the time, inside and outside sales teams are not working face-to-face on a daily basis, but they should always operate like they're just a desk away. As inside sales is making headway on inbound leads or creating awareness with a new prospect at a target account, they need a place to share details about the conversations they're having so that the outside sales team can offer additional insight to tee up the opportunity.
There is an abundance of resources out there to open the lines of communication. We use Zoho Connect, a web-based team portal that gives our clients real-time access to their MarketLauncher team so we can share insights, ask questions that come up as we are having conversations, and share the news when we've converted a hot lead. It became such an important part of our operation that Zoho Connect featured an interview with our CEO, Lara Triozzi.
Some of our clients use Slack and our team is happy to use that channel as well. We will adapt to whatever is easiest for the client, just as long as the two teams have a way to communicate in real time. We also hold most meetings over video conference, because nothing can replace human interaction.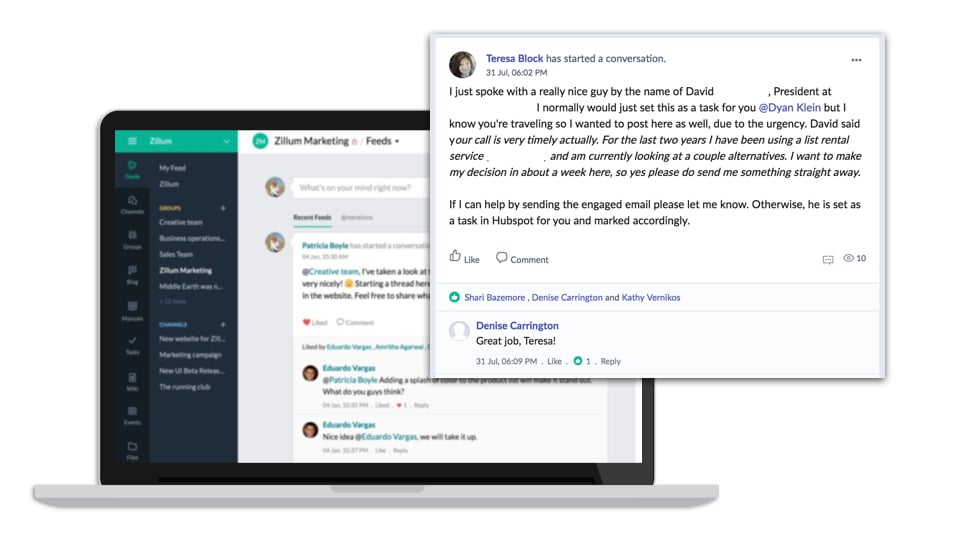 Rule 2: Agree on your pre-qualification criteria
If you want your teams to join forces, they have to be working towards the same goal. That includes a firm understanding of the criteria being used to qualify the right opportunities. These factors can include buying authority, pain points, timing, company profile or relevant corporate initiatives. They might differ across your target organizations, or even across your different offerings.
By having a firm definition of the prequalifying criteria, the inside sales team will know who to convert to a productive first meeting, and who to nurture until a later time when the factors are more aligned.
Here is a tip that has worked well for MarketLauncher to establish the right criteria: Ask the outside sales team to give you two or three of the most important data points they want to know before going into a first-stage sales meeting. This will help keep the inside team focused on pre-qualifying based on what is most important and open the door to a meaningful conversation about how your company can help solve their problems.
Another area that you'll want to level set is agreement on the lifecycle of a lead and when to convert it to a sales opportunity. Some more strategic sales require talking to prospects early in the buyer journey, identifying where there is an unmet need and educating the buyer about potential solutions. In other cases, an outside sales rep might not need to step into the process until the prospect is further along and ready to buy. When these differences are defined at the beginning, the inside sales team will know when it's time to pass along a lead to the right sales person at the right time.
As an example, MarketLauncher usually handles the entire inside sales function -- from building the audience to qualifying decision makers and booking appointments. In most cases, our clients want to engage with prospects who are warmed up and ready to move forward. Sometimes this means converting a prospect that is actively looking for a solution and ready to buy; other times it means creating the opportunity for an early stage introduction with a verified decision maker at a target account. Our team knows in each scenario when to move a lead forward so we can integrate seamlessly into the client's sales process.
Rule 3: Create a feedback loop for a clean pipeline
The greatest danger in lead development is ending up with a messy pipeline full of leads who have gone dormant. At MarketLauncher, we refer to that as the dreaded "black hole of forgotten leads". Keeping your prospect data clean and your pipeline well-defined requires cooperation from both sides of the sales team.
Think of it as a feedback loop: Inside sales warms up the prospect for outside sales, and if the prospect goes dark they should be passed back to the inside team to nurture and re-engage at a later time. While outside sales keeps focused on their active leads, inside sales should gather more intel on what might be needed to move the dark leads forward. Some decision makers just need more time and a little nudge, while others may have moved forward with a competitor. You NEVER want to leave a lead hanging just because they haven't made progress in your sales cycle. But we understand that outside sales teams are busy juggling leads and prospective buyers across a broad spectrum of the sales cycle. You'll see the most success over time when you can help narrow that spectrum so that sales executives are focused on the opportunities most likely to move forward, while ensuring the other leads continue to receive attention from the inside sales team and are reactivated at the right time.
A consistently flowing feedback loop means your sales team will know exactly what is real when looking at their pipeline and can actively work on next steps with each other's support.
Rule 4: Get together to analyze and

strategize
The overarching theme in sales team alignment is visibility and transparency across the board. Do you have meetings to check in on KPIs and optimize your strategy together at least every quarter, if not every month? Reporting in itself can easily become chaotic if sales reps save their notes and status updates on disparate systems. Develop a systematic process that keeps all data on your CRM so you have real-time and historical data to analyze. Then, bring both sides of your sales team together to see how the metrics are performing and what needs to be done to hit your objectives.
This is what our reporting cadence during a six-month ramp up looks like at MarketLauncher:
Month 1: Program Guidelines - Set the overall strategy and messaging
Month 2: Report on Target Audience - Have we identified the right people?
Month 3: Campaign Response - Who is reacting? Is the message resonating?
Month 4: Lead Development - Who are we reaching? What are we learning?
Month 5: Meeting Outcomes - What percentage are advancing to the next stage in the sales process? Where can we tighten pre-qualification?
Month 6: Market Assessment - Review progress and ROI potential, discuss everything we've learned and make recommendations
While each month focuses on a different benchmark, these discussions are happening throughout the campaign and additional strategy sessions can be set whenever something new comes up. More often than not, our clients come to us mid-campaign with a new offering to share, a target market or location to focus on, or a marketing campaign that needs follow-up. Setting clear goals and objectives is critical, but an inside sales team needs to be flexible enough to shift with market and buyer demands.
Rule 5: Determine your true selling power
Qualifying leads and closing deals require two very different skillsets and a lot of data needs to be gathered in between. Especially if you have a complex product or service, getting a prospect from first conversation to closed deal can take dozens of touchpoints and months of nurturing. When the burden of the inside effort is placed on someone in an outside sales role, more focus often gets put on moving deals through to close, leaving prospecting as a lower priority. Don't let the right opportunities get left by the wayside. Be realistic about what your team is capable of and where their strengths lie, noticing the areas of your sales cycle that are not getting enough attention.
MarketLauncher clients know they will have a steady stream of net new opportunities consistently entering the pipeline, allowing the outside sales team to be more strategic with their time. It is important to have a skilled team focused on managing the top of the funnel so the outside sales team can focus on winning new business. As a unified front with an aligned purpose, an inside and outside sales team that is fully aligned can achieve a predictable growth model and bring new firepower to your pipeline.