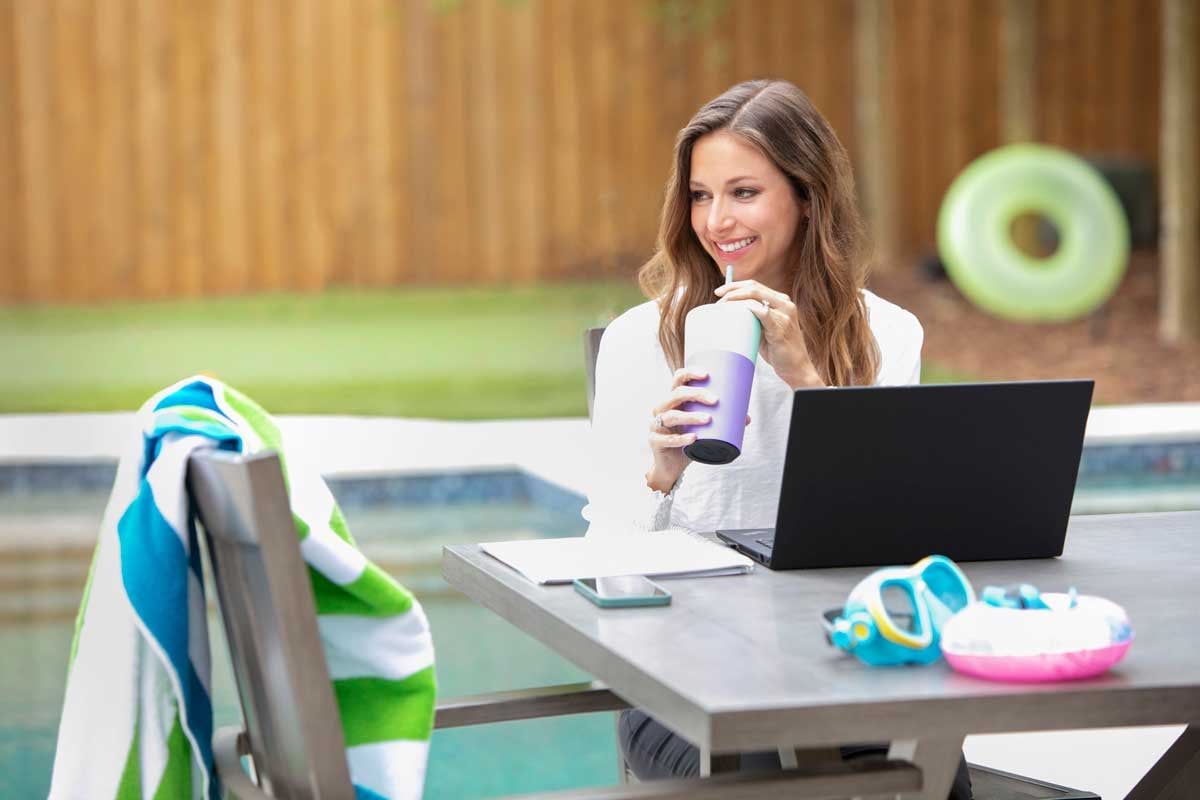 The workplace has changed a lot in the last couple of years. And businesses have had to respond to all that change. One of the most significant transformations for many B2B companies was to embrace a remote workforce for their employees. While some have returned to the office, many others have opted to go remote or a hybrid model. The ML team has been fully remote since our inception over 20 years ago. You could say we are seasoned experts when it comes to operating remotely from anywhere.
Have Laptop, Will Travel
When ML talks about working remotely, we don't just mean working from home (WFH). Instead, we like to emphasize that remote means the ability to work from anywhere.
We have found that with careful planning and equipping our team with the tech they need to work from any location, our clients receive the highest level of care regardless of where our team members are located.
Our flexible work environment has allowed our team to work from courtyards in Morocco, a hillside in Tuscany, ski slopes, beaches, hotel rooms, and cafes around the world. This does not mean we advocate for expecting that your team work while on vacation. On the contrary, we're big believers in making sure employees take necessary downtime and completely disconnect from work. But we are also big believers in taking full advantage of the freedom to travel more frequently if you choose and the flexibility to stay connected to the office while participating in life events that are sometimes harder to orchestrate around the need to be at a desk.
Our flexible environment has permitted team members and their families to accept opportunities a more rigid work environment wouldn't accommodate and indulge passions like travel and seasonal changes in geographical location.
"At 11 years old, my daughter was offered an opportunity to perform for two months in an ice skating show in Canada. ML's flexible work from anywhere policy allowed her to say "yes" to the opportunity of a lifetime. I was able to join her and worked during the day from a hotel room while she attended rehearsals. We both had an experience we will never forget. She also worked in a show at a theme park for 4 years and on her assigned days I worked from her dressing room. I truly couldn't have done any of that without the ability to work from anywhere." Mary White, COO
"Being remote hasn't hindered me in any way. I have actually been more successful because I can tailor my work schedule around my life schedule and I think that makes for happier and more fulfilled employees."
"I have five grown kids, and both my husband (who is Dutch) and I have aging parents. We divide our time between Alabama, Arkansas, and the Netherlands to stay close to everyone. My role requires that I call people all over the world, and with ML, I can do that from any location. Being remote hasn't hindered me in any way. I have actually been more successful because I can tailor my work schedule around my life schedule, and I think that makes for happier and more fulfilled employees. Tori van der Geest, Senior Sales Development Specialist
"My family and I were living in Illinois when my husband's employer offered him a promotion. It required we move to Southern California so he could go into the office every day. We decided to keep our Illinois home and commute back and forth. I was fortunate to find a role with ML that fit my expertise and provided the flexibility for me to commute. I set up offices in our home in each location. I could complete my work week on a Friday afternoon in one state and start my next week in the second state on Monday morning. My commute was seamless, and I didn't skip a beat." Debbie Thiry, Senior Market Research Specialist
Our Work from Anywhere Flexibility is a Competitive Advantage
ML's work from anywhere policy is a competitive advantage. It has helped us attract the best and brightest in our industry and hire for talent versus location. As well, it has also helped us retain our valuable team members, and maintain our low staff turnover rate. Some of our team members have family members in positions that require regular relocation. We would have lost that talent if we hadn't had the flexibility for them to work from anywhere. Instead, we were able to provide peace of mind that they could stay with ML, which in turn, increased their loyalty to the company.

Is a Remote Workforce Right for You?
Fully remote, back to the office, or somewhere in between. Many companies are currently working to determine what is best for them. There are pros and cons to all.
If you are struggling to find the best setup for you, drop us a line. We would be happy to share our experiences and answer questions. And we also encourage you to download our Remote Workforce Playbook. It's full of ideas to set you and your remote team (regardless of their location) up for success.