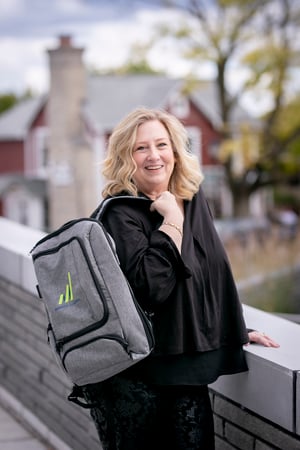 Sales Development Specialist, Jennifer Aldinger enjoys the flexibile schedule that MarketLauncher provides her but it is the desire to achieve results for her clients that keeps her learning and growing everyday. She's tenacious and knowledgable and loves learning all she can about her clients and the products or services they provide. Her natural way of making people feel comfortable with every phone call and her quest for more knowledge is the cornerstone of her success at ML.
Here's a peek into Jennifer's world as a working mom and a leading producer of the Sales Development Specialist team.
Tell us a bit about yourself and your role at MarketLauncher.
I've been with ML now for 6.5 years. I primarily support clients in the healthcare and technology industries. Having worked for a number of years with IBM as well as NCR supporting hospitals, these two industries are a perfect fit for me.
One of my favorite things about my role is the opportunity to work with and learn from my clients… understanding their needs, learning about the industries they serve, the solutions they provide and then helping them successfully take them to market.
In my spare time, I work with the Mayo Clinic providing my opinion on healthcare and the technology that supports it. This feeds my passion for continuous learning and staying abreast of new developments while allowing me to use my knowledge of these two industries to give back. And, I get to apply what I learn to my clients as well as my colleagues at ML.
ML is like an extended family to me. Every single person is strong, bright and professional and I love learning from and about them. We all share best practices, both professionally but also personally. The interview process is long and very thorough to ensure they find the best and the brightest and that the team complements each other and shares similar traits that support ML's values of Achievement, Improvement, Commitment and Fun.
What attracted you to ML?
I have three children and family comes first. I had heard from an acquaintance about ML and the great services they provide so when I found out about their remote work structure, I wanted to learn more. I quickly found out how professional the team is and that I would have an opportunity to use my existing sales experience while also being able to grow that knowledge and stay current with new sales processes, technology and learning about new clients, all while having the flexibility to set my own hours to fit the needs of my family. My children have all graduated from college and are moving on to new life experiences. ML has allowed me to pivot my job as their growth and needs changed to ensure they could be as successful as they now are.
The focus on our clients that ML lives and breathes also attracted me. My role is not just about cold calling. I spend time researching and understanding my clients' products and services and the needs they fill so that I can speak convincingly to prospects. I need to know their industry and their challenges to build trust. I then identify the best people in the organization to speak with who can point me to the right decision makers and once I engage the decision makers, I work to help them understand the value my client provides so that they are convinced to book an appointment. Every member of the ML team is involved; we each use our unique skillset to ensure an effective, multi-touch experience for every client. This includes everything from market research and data analysis, to quality email communications, to reporting. ML really forms a partnership with each of our clients and we consider ourselves an extension of their teams. It is really rewarding when the connections we create lead to a sale for a client and that the prospect I spoke with is finding a solution to a problem. So, it's a win for ML, a win for our client, and a win for THEIR new client.
It's been a challenging year. How are you adapting?
Personally – and here's another reason I love ML – it's been challenging as my parents live in Florida (my husband and I are in Ohio). I was visiting them in March when COVID really escalated. ML gave me the flexibility to stay in Florida to care for them while also supporting my clients. Because of the technology we use, it was really seamless.
From a business perspective, we had to be very sensitive to how COVID was affecting each client. ML leadership made this a top priority. We changed our approach to each client to fit their unique challenges. In some cases, we used this as an opportunity to step back and conduct foundational data work, update target lists and perfect messaging. For accounts with solutions or services that resolve COVID-related challenges, it was an opportunity to help them provide greater support to their clients. And, because ML has worked remotely since inception, leadership ensured we were sharing our knowledge and expertise to coach our clients on how to set their teams up to work from home safely and effectively. Not just the tools to ensure business continuity, but also to ensure they were connecting with their teams and making their physical and mental health a top priority.
Any particular
A
ccount
B
ased
S
elling
(ABS)
advice or learnings you can share?
Most buying is done by a group of individuals within a company. You cannot simply identify a title within an account and expect to easily book an appointment with that person and have your message resonate and in turn make a sale.
ML really gets this and applies ABS because it takes this team approach to buying into consideration. One of our first steps when building out a plan for a client (together with deeply understanding their products and services and the needs they resolve) is to identify the right people to engage. This is a critical step and we employ many techniques to do this effectively. ABS uses an "account" versus "title" approach. We connect the dots from everybody we talk with to identify the right people to focus on going forward. And, because we have done our homework to fully understand our clients' products and services, we can readily pivot to fine tune or change our messaging to find the right one that resonates with the person we have engaged.
I love this step because it gives me the opportunity to speak to a wide variety of people (not just in the US but often in locations in other countries too) which feeds my curiosity. And, it allows me to use the sales techniques I have sharpened over the years. You have to be persistent and comfortable (and enjoy) speaking with everyone in any position, from receptionists and gate keepers up to the C-Suite and Board members!
What does a typical workday look like for you
?
I love my coffee so brewing a cup is number one. I switch my coffee to fit the season. Right now, I am drinking "Holiday Blend". With my mug in hand, my first order of business is to look at all of my accounts to see if we have received any responses from the previous day's outreach as well as review my performance metrics. I keep my eye on the data pretty much daily so that if we need to pivot in a certain area, we can do that immediately without losing ground. I then look at my calendar and build out my plan for the day. I have certain days where I focus on particular clients, but I balance that by ensuring ALL of my accounts are reviewed to ensure I am on top of anything they may need.
I end the day in a similar way… looking at each account to ensure any new needs are noted and addressed, looking at my individual performance dashboard, and starting prep for the next day. I do a quick review of Zoho (a platform we use to share progress and real-time conversations with clients) so I don't miss any updates from team members or clients.
How are you staying busy during COVID, beyond working?
My family keeps me busy. My kids are grown and have moved away but I am still close to them and currently helping with activities like starting new careers, home purchases and of course preparing for the holidays.
I really enjoy the work I do with the Mayo Clinic and I am a big sports nut so I look forward to watching football and tennis. And again, back to my need for information, I watch the news to stay abreast of COVID updates, political coverage, etc.
I also make sure I get out every day regardless of the weather for a walk. Even before COVID, this has always been a priority for me. Working from home, you can sometimes forget to step away from your desk. It's important for you but also your clients that you get up, take a break, and clear your head.
Looking into your crystal ball, what do you see in the future for sales professionals?
I believe that the COVID restrictions and need to work from home have had some positive impacts, especially in companies realizing that remote or virtual employees can be productive and successful and provide great client service. I predict we will see sales and other teams continue to work remotely and even see growth in this area as we learn about all the ROI to both the individual as well as the company which then positively affects your clients. COVID has also driven innovation especially in areas like remote patient monitoring and virtual healthcare visits. Necessity really is the mother of invention. COVID is moving us forward to improve and grow in many ways. Which is really what all good mothers do.