Attention to detail in his writing, collaboration with team members and clients, and even baking cookies is the secret to this ML Achiever's success.
Congratulations on being named this quarter's ML Achiever. Tell us a bit about yourself.
Thank you! I currently live in Birmingham, Alabama, but grew up in the City of Atlanta. I majored in English at the University of Mississippi, where I met my wife. We have a 4-year-old daughter and a son on the way.
When I graduated, I began to contact a diverse range of organizations to apply my writing skills in the working world. So, when my wife and I moved to Birmingham, that outreach and networking led to opportunities to work in "hunter" sales roles where I was charged with bringing in new clients. At the same time, I continued my independent proprietorship to fulfill my passion for writing. My life was very busy, but I have a strong work ethic and love challenges.
Having a sales background plus being a writer is a unique mix. Has that blend been useful in your role here at ML?
Most definitely. It makes what I do even stronger. Because of my sales experience, I understand what our clients require and what our specialists need to be successful in terms of content and messaging. To be enticing while building immediate trust, our messaging must be about the problems our clients' offerings resolve.
My understanding of their organizations and solutions occurs during our initial strategy sessions when onboarding new clients. This is one of my favorite parts of my role. I enjoy collaborating with them to understand their value proposition, why they win business, and any challenges they've had in selling their offering. This is essential in helping me build messaging that will resonate. Once I have this information, I build talking points and emails highlighting their differentiators and why potential buyers should meet with them. This joint approach results in a great back and forth and creates alignment among our team and clients.
Let's talk about the role of content in helping the ML team successfully support our clients.
My ultimate goal is to arm our team with compelling talking points that allow them to have strategic conversations and draft emails that support their calling efforts. If I am successful, the ML team is successful, which means our clients will be successful. It's a win/win/win.
"I apply my writing skills to break down complex thoughts and ideas into simple language designed to engage and encourage activity between clients and their prospects."
Then, because we are passionate about data, I track how emails are performing in HubSpot and stay aware of the forecasted goals being met. I also push out new client content in the form of a two-email touch each month to continue generating engagement and interest.
What attracted you to ML?
As much as I loved what I had built as an independent sales writer, I wanted a more traditional business environment as my family began to grow. ML's Sales Content Manager role looked like a once in a life-time opportunity that would allow me to apply both my writing and sales knowledge to support a wide variety of clients. What really sold me was:
ML's culture,
the caliber of clients the firm works with, and
the elite experience of team members.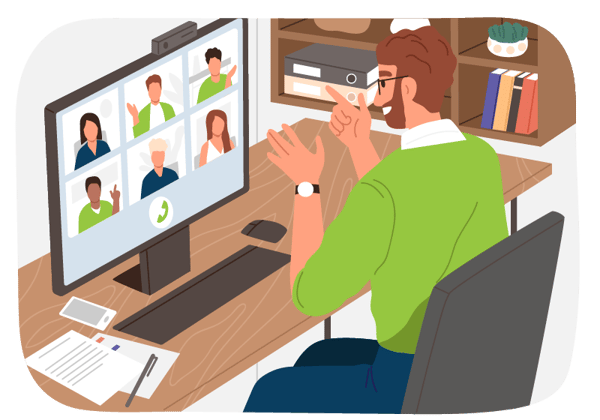 Personally, I love the remote work style. It provides me the flexibility to attend functions my daughter is part of, like dance recitals or holiday programs. Additionally, not having a morning or afternoon commute gives me back significant time that empowers me to optimize my schedule. Therefore, I have more freedom on the weekends to be involved in the community. For instance, my wife and I are huge animal lovers, so we support a local cat rescue called Kitty Kat Haven & Rescue. I also try to give of my writing expertise when I can. As an example, when we lived in Atlanta, I assisted with a fundraising email campaign with a local church to help a family whose home became unliveable. Our outreach helped them find a new form of shelter that could better support their needs.
And when it came to onboarding, I had a truly great experience with ML. I believe the thorough interviewing and vetting process ML performs makes for a shorter ramp-up (in a positive way). I basically was able to cannonball directly into the deep end to write content and meet clients. I felt, "these guys trust me," from day one.
"I basically was able to cannonball directly into the deep end to write content and meet clients. I felt, 'these guys trust me,' from day one."
Your online bio says you pride yourself on listening louder than you speak. Can you elaborate on that a bit?
Listening and observing are critical components of communication (and, again, collaboration). Most of our clients have an established message and brand, so we aren't starting cold. It is important to listen to everything told, absorb it, and then put together messaging that reflects each stakeholder's voice while also ensuring uniformity.
In a unique way, it reminds me a bit of when my wife was teaching me how to bake ten or so years ago (she has been the best teacher a guy could ask for!).
Actively listening to what she was saying and truly noticing her technique (rather than thinking about the next steps) allowed me to understand the little nuances that come with baking at an accelerated rate -- like the differences between the ovens at my house versus my mother's, versus my in-law's. 60 seconds can be the difference between delicious and overbaked! And in the world of B2B sales, listening, observing, and communicating effectively can be the difference between client success and failure.
P.S. - While this isn't my own personal recipe, it's my "go-to" for making chocolate chip cookies! Enjoy!