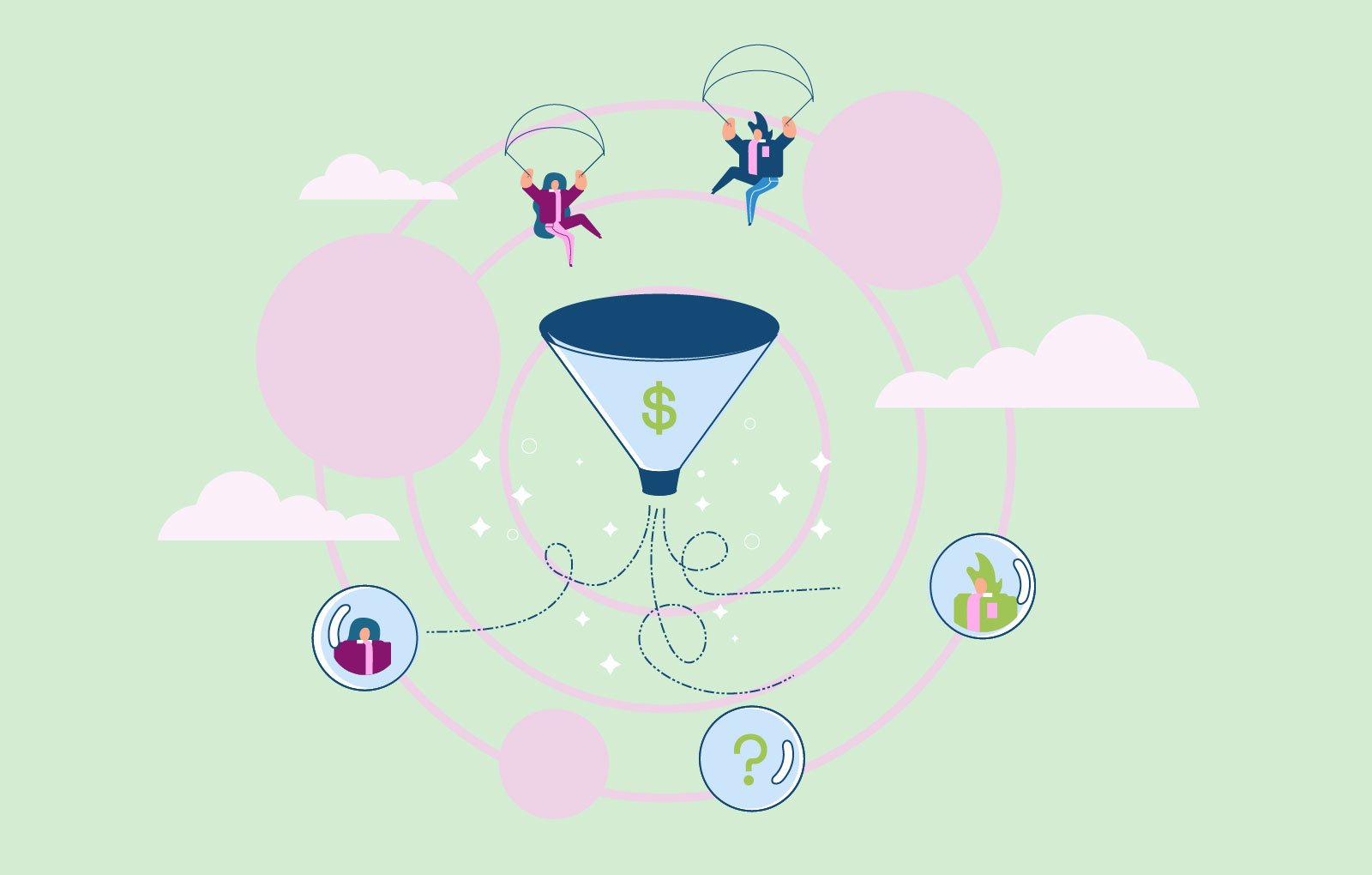 What is one thing every sales professional wishes they had more of? Time. Because when it comes to generating and nurturing leads, there's nothing more frustrating than putting time and effort into someone who is not ready, able, and willing to buy.
With a well-planned lead qualification process in place, you can make the most of your resources, gain market intel, and effectively drive your sales funnel. But, beyond just using a framework or checklist of qualification parameters, you must be intentional and purpose-driven in your process. That means more preparation on your part to ensure you are bringing value to your prospects.
If you're unsure whether or not you are talking to the right people, confused as to where your marketing dollars are going, or just want to know where to start -- we're breaking down our proven strategy for building an intentional lead qualification process.
Set
Your Intention
In this case, an intention is a clear view of what you want to get out of an interaction. It's not just about a booked meeting or even a signed contract. It's about visualizing the end result and picturing what a successful client story looks like. There can be many potential customers, but not everyone can become a long-term partner. When you engrain the end goal into your subconscious rather than the task in front of you, you are more likely to drive towards that goal.
Imagine telling yourself...
"My goal is to make 15 calls today and qualify at least 8 leads. Hopefully, some of them will lead to a booked appointment"
OR
"My goal is to find out if this prospect can potentially become a loyal, long-lasting customer and to learn more about the challenges they face in the market."
Which intention do you think is more impactful?
When we start our qualification process here at MarketLauncher, our goal is to bring value to the conversation, learn as much as possible about the prospect, and build a foundation of trust that will shorten the sales cycle for our customers.
Before you begin researching your prospects, ask yourself:
What do I want to get out of this conversation?

What does a successful outcome of this interaction look like?

How can I deliver my message as concisely as possible?

How can I take the insights from this conversation and apply it to my future qualification calls?
Learn Everything You Can Beforehand
It goes without saying that you have to know who you should be speaking to. Defining your target market is a whole process in itself, and there are many resources available to help you identify your audience. Demographics and lead scoring systems are great, but before qualifying you want to learn as much as you can about their title, organization, and industry while also recognizing that each company is different and there is no one-size-fits-all solution.
Before your first interaction with a prospect, do the following:
Identify their role and the authority they

have to

make buying decisions that relate to your product

or service

. Sometimes

,

it's as easy as a LinkedIn search to learn about what they do, where they came from, and how long they have been with the company.

A deeper dive can often reveal what kind of content they are interested in and what other brands they look up to.

Study industry trends, challenges, and insights that shine a light on what your prospect may be facing. Even a quick Google search of "[Industry] trends in 2019" can open your eyes to where your prospect is spending their budget and focusing their efforts

.

Use your insights to build a strong reference statement. For example,

"I understand that you are responsible for corporate training for your team, and many others in your position are currently focused on digital transformation

. Let's explore this initiative, discuss our work with others in your role, and how we can help you fill any gaps and achieve this goal."
Check Off the Qualification Boxes
Even more important than your intention going into a sale is the intention of your prospect. Are they simply interested, or are they in a position to buy? The qualification process is all about determining whether someone's interest warrants your time for a follow-up conversation. IBM developed a framework for qualifying leads called BANT (Budget, Authority, Need, and Timing). You need all four boxes checked before you can start pitching your value propositions and solutions.
However, just because someone doesn't fulfill all of the BANT parameters doesn't mean they should be scratched off the list entirely. Budget, need, and timing can and will change at some point, and reaching the right authority figure is part of the process. Here are a few examples where waiting for the right moment led to success:
We worked with an Enterprise Resource Planning company that needed to build their audience across three different industries. Implementing a new ERP solution is a daunting task, and if a prospect recently signed on with a new one, they are unlikely to be interested until at least 12-24 months.

W

h

ile they may not be qualified now, th

at gives us a stake in the ground on which to follow up next year.

An end-to-end

R

evenue

C

ycle

M

anagement solution asked us to develop leads for their wide range of services. Because their offerings were built to solve many different challenges, the qualification process was based heavily on need. Those prospects who did not see a need for the RCM would likely face some sort of issue in the future that could change their mind. Thus, having intermittent follow-up conversations and nurturing them with relevant content kept our client top of mind until prospects were ready to engage further.
When working with a Route Execution Solutions Company, we found that re-engaging leads or prospects that had been spoken to in the past gave us a good jumping off point to determine if anything had changed when it came to need, timing, and budget. The conversation went something like this:

"

Last time we talked

you were using XYZ routing solution with a fleet size of X. Is that still the case? Great!

I'd like to talk more about

how we can

enhance your

solution and

how it can help you improve

performance and reduce transportation costs

.

"

By setting a specific time to reach back out and having notes to reference from the past conversation, we were able to move more meetings to deals and prove that we had the customer's best interest at heart.
Call with Purpose
You now know who you are talking to and how to prepare for the initial qualification call. Last month's blog covered tips for getting the attention of busy decision makers. Once you have that attention, the amount of information you share or receive is largely based on the amount of time you have to talk in the first place – which is likely not much. Besides keeping it short and sweet, you want to make sure you are reaching your qualification objectives in as few questions as possible.
I like to follow a simple framework by asking the following open-ended questions:
Are you in charge of XYZ?

What challenges are you facing and how are you handling them today?

What gaps do you see in your process and how can we help fill them?
To dive deeper, you can ask questions like...
What areas of your business are you allocating your budget towards this year?

Do you have a timeline for implementing solutions for your current challenges?

What objectives would you like to achieve by solving this pain point?
Drive the Right Message
At the core of account-based sales and marketing is the ability to speak directly to a prospect's needs and create a human connection. When you ask the right questions, you gather the information you need to follow up with content that is relevant to your prospect and keeps you on their mind.
It's common to have a follow-up email template to send behind your calls, but personalizing it brings much more value. If the prospect tells you to email them more information, don't just send your website link and a basic brochure. Ask them what they are interested in or what they are trying to solve, then give them knowledge that approaches those topics head-on.
Just like you, decision makers are short on time. They want to be listened to and want to see immediate value, which you should have gathered before going in for the sale. The qualification process doesn't just happen at the outset, but at every stage of the sales cycle. So, use any opportunity you can to ask more questions and get more content in front of them. When you prove that you are interested in solving their problems, then they will know who to turn to when budget, need, and timing align.
At MarketLauncher, we value the importance of lead qualification as part of the sales process, which is why we have experienced Market Research Specialists who conduct that research up-front so that our Sales Development Specialists can focus on closing the deal. We recognize that both functions require very specific skill sets, goals, and intentions. If your team is not equipped to handle both responsibilities separately, consider partnering with a firm that can help your company convert more leads into opportunities and more opportunities into closed-won sales.