Building a Predictable Sales Pipeline for Companies Funded by Private Equity
The MarketLauncher team has 20+ years of experience helping clients get in front of the right decision-makers.
For private equity funded clients across a broad range of industries we apply our expertise to the research, approach and cadence of touchpoints to warm up and engage your potential buyers.
"We did a formal search and talked with lots of other firms. We found that MarketLauncher is just in a different class, because of the level of knowledge of the individuals. There is just no comparison to the depth of how MarketLauncher works to truly understand what it is we are trying to position to the market, not just our features and functions, but: How is it different? Why is it better?" - Marketing Director, Management Consulting Firm
The ML Team can help you:
Identify and build your target audience
Book appointments with sales-ready leads
Educate and nurture your buyers with personalized outreach
Build your sales pipeline and accelerate revenue growth
At ML, We Accelerate Market Growth
Firms funded by private equity have a critical need for two things:
Penetrating the market at an accelerated pace.
Market data to help make strategic decisions.
MarketLauncher's focus on process and obsession with metrics, enable companies to accelerate their market penetration. Based on word-of-mouth referrals through private equity portfolio companies, today more than 50% of ML clients are funded by private equity or venture capital
Our team brings a range of multi-disciplinary marketing and industry expertise to our clients. This is unrivalled in our market. We understand the language of the industries in which you operate and are comfortable engaging with the C-suite and all levels within an organization to get you in front of the right buyers and grow your revenue fast.
"My experience with ML is that they have the expertise to build a qualified pipeline. Their work allows us to cast a wider net and instantly create more sales bandwidth." David Fedor
Growth Accelerator for Mid-Market Companies

Accelerates growth and builds value in mid-market private equity owned firms
---
MarketLauncher Accelerates Go-To-Market Strategy, Creating $28.8M in Sales Pipeline
MarketLauncher worked with a software company that was bringing a new governance, risk and compliance management software solution to market which enabled companies to streamline the process for compliance with Sarbanes Oxley.
Within 18 months the ML team reached key executives at 48% of the total identified market and secured 192 new business meetings for the client's sales team, demonstrating our ability to create high penetration in a market at an accelerated pace.
The Impact:
ML accelerated the client's go-to-market strategy, creating $28.8M in sales pipeline. The program also provided data that helped our client understand the overall market appetite for their solution and predict future sales.
Our client gained enough presence in the market to attract buyers, and later, the client company was acquired by Wolters Kluwer.
Market Penetration
Meetings with 192 companies in the target market resulted in $28.8M in Sales Pipeline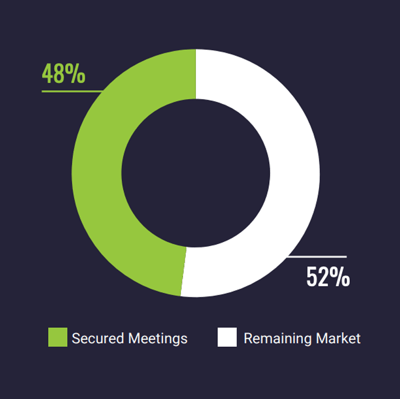 ---
The Navtrak Story
MarketLauncher began working with Navtrak, a leading provider of on-demand mobile workforce management software and hardware solutions for field service, delivery and sales departments with a mobile workforce. The ML team closely tracked campaign metrics to help Navtrak better understand the market and the key demographics where they were gaining the most traction. Within 2 years, Navtrak closed a $5M deal, the largest in company history, from a lead developed by the ML team. Over the course of four years the ML team secured over 500 meetings for the Navtrak sales team, creating a qualified sales pipeline of opportunities which closed at a consistent rate of 33%. After ML helped them secure a significant midmarket client base and accelerate their sales process, Navtrak was acquired by Telogis.
According to the CEO of Telogis, this was a strategic acquisition to broaden their customer portfolio based on the reach Navtrak had achieved in the smalland mid-sized markets.
"There are two things more than any other that set MarketLauncher apart – their metrics-based approach and their ability to translate those metrics into meaningful reports that provide concrete insights." Senior VP of Sales and Marketing
Navtrak
---
The Click Commerce Story
In 2008 MarketLauncher began providing lead generation and market research to a leading Service Network Solutions provider. The core focus of the program was to help them gain share in a key market sector, aerospace and defense. The ML team provided outbound activity at the top of the funnel to drive more qualified opportunities into the sales pipeline. After two years of growth, the client attracted the attention of private equity firm, Marlin Equity Partners and they were merged with Servigistics, the world's leading enterprise software solution provider for Service Lifecycle Management.
The VP of Sales at Click Commerce went on to serve as Managing Partner at an investment management company, where ML worked with him and his partners on more than a dozen client ventures.
"When momentum matters and your knowledge of the market is uncertain, MarketLauncher is the perfect choice. There is no better firm to launch a product or move into a new market. There is no better firm to target the C-suite. There is no better firm in the country. Despite any market challenges, they generate momentum rapidly!" Partner
Investment Management Company
---
The Concert Genetics Story
Concert Genetics is a technology company dedicated to streamlining the process for ordering genetic testing. The SVP was looking for an outside resource to provide lead generation for his sales team. He was using other firms to provide a similar service and had received adequate results. However, the Chief Strategy Officer of another company in the private equity firm's portfolio explained that he was receiving superior results with MarketLauncher. This referral led the Concert Genetics SVP to engage our services.
The ML team built a list of Lab Directors, Finance Executives and Hospital Administrators at a cross section of mid to large-sized hospital systems, Children's hospitals and Academic Medical Centers.
The ML team booked two appointments in the first week of the program, and by the end of the initial pilot, the ML team had achieved 125% of the original lead goal. In a monthly meeting while reviewing program results, the CEO commented: "It is so refreshing and rare when a service provider does exactly what they said they were going to do." That CEO has since gone on to another start up and, as soon as they began their commercial launch, he brought ML in.
"MarketLauncher exceeded my expectations, exceeded all goals and did so in support of a very complex hospital genetic testing software sale. Appointments led to opportunities which led to new contracts. " SVP Business Development
Concert Genetics
---
About MarketLauncher
Our seasoned experts get you in front of the right decision makers. ML is typically the cost equivalent of one high-end salesperson. However, our team approach means our clients receive an unrivalled combination of expertise across multiple disciplines related to top-of-funnel sales development, providing more bandwidth than one individual ever could. If you would like to learn more about MarketLauncher and how we can help you achieve your lead development goals, get in touch.