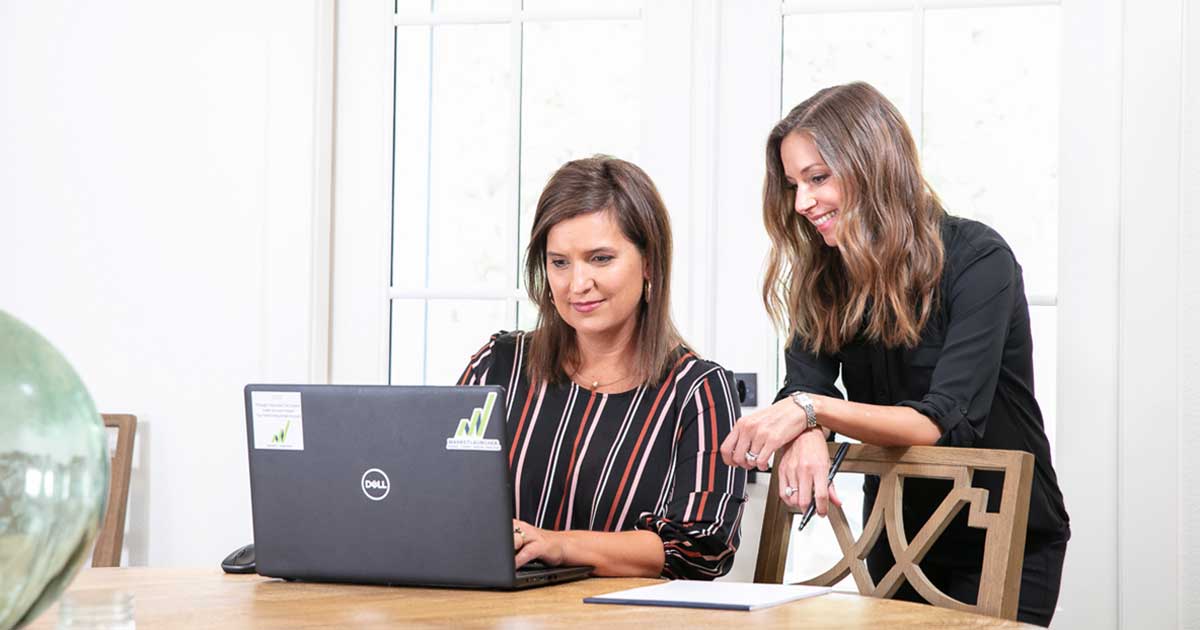 Did you know that having an aligned sales and marketing team can directly impact your sales efforts and improve your revenue generation success?
Those are some pretty big numbers and I'll bet they got your attention. In this blog, we will share some real-life examples of how our clients are successfully breaking down the barriers between marketing and sales (and even other departments across the organization) to improve their selling programs.
1. Incorporating Marketing Activities into Your Selling Efforts
The pandemic created some advantages and disadvantages for our outreach on behalf of clients. We found in several instances that, while our target audience was easier to engage, our ability to book meetings was challenging. The feedback we received was that the pandemic was creating too many unknowns and so our contacts were hesitant to commit to meet. Here's how we turned that challenge into opportunity for one client.
During a regularly scheduled client update meeting, we learned of a virtual demo day their marketing team was hosting and pivoted our outreach program to capitalize on it. ML's Michelle Haarde, Director of Client Services, explains "The event was extremely well run and post event our conversion of leads to booked sales meetings increased 33%. That was almost double what had been booked in the 10 months prior."
By first offering participation in a thought leadership event versus a sales meeting, our contacts were more willing to engage with us. Because the virtual demo day was so well done, it helped build the participants' trust, making them more willing post event to have a conversation with the sales team.
Another example of successful integration of marketing activity into the selling effort comes from one of our clients which provides an executive peer group forum for CEOs. This client authors a variety of thought leadership content which they heavily promote through LinkedIn campaigns. The leads that are generated from the campaigns are then passed to the ML team to prequalify and move forward in the lead funnel. Because of the high quality of the content offerings and the speed of follow-up outreach to those who downloaded, we have had great success converting the leads into sales opportunities. We've been converting an average of 17% of the leads to opportunities and the client closed four deals in the first year.
Speaking of LinkedIn Campaigns, our partner, Databox, has a really good article that offers ten tips for running successful campaigns we recommend you read to learn more about this very successful lead generation tactic.
2. The Medium as a Selling tool
It's important to have a variety of content formats to offer your target audience and video is one medium that can be very effective. For one client, we were starting to see a drop off in engagement with their written format materials. Through our relationship with the head of sales, we were able to share our insights with their marketing team. Marketing then incorporated our recommendations into their Content Strategy, creating a short "explainer video".
We then conducted an A/B test, to evaluate whether written or video content would perform better.
We created two email sequences, each split out into two offers... one for the video, and one for the written piece. With the first email sequence, the open rates between the two versions were about the same, but the click thru rate on the email that included the embedded video was 6 times higher than the one without!
We then sent the second email in the sequence. The open rate on the email without the video dropped substantially to less than half of the first email's open rate while the email that contained the video achieved a similar open rate as the first email, but the click thru rate increased another 50% from the first email.
Clearly, for this particular audience, video was the more successful medium.
3. Don't Forget Your Channel Partners
We often see opportunities for companies to leverage their channel partners. We work with a Value-Added Reseller who receives leads via their direct relationship with a software publisher. The ML team vetted the leads and over a period of 18 months converted 22% into 27 sales opportunities.
Your partnerships are often a great source of materials that can benefit your target audience, especially if your partner is a well-respected brand. At ML, we are quick to share non-salesy, partner-created information that our readers will benefit from. HubSpot is a great example of a leader in its field. We are a HubSpot Platinum Solutions Partner and are quick to share any content they generate that is specific to Account Based Selling as this supports ML's philosophy to be customer-centric.
By sharing these best-in-class materials, our reader gains valuable knowledge, and we build trust by demonstrating that we understand their issues and want to share relevant information.
4. Third Party Thought Leaders Like Analysts and Industry Experts
Similar to your partners, third party experts create an array of high-quality materials that, when shared, can again build trust and show that you understand your customer's industry and the challenges they face. If you have an analyst or PR team, speak to them about their programs and leverage what they are doing. Even if you don't, you can still research and share high quality materials, but be sure to cite the source properly!
Summary
The key to breaking down silos across your organization to drive revenue is, in almost every case, communication. By regularly engaging and sharing information with the various lines of business, you will almost certainly uncover new tools that can strengthen your sales efforts, usually at little or no additional cost! But it's also important to then be intentional about what you share and how you approach your audience.
Don't miss any of our blogs. If you haven't already subscribed, we invite you to do so.
Please contact us to learn more about MarketLauncher, or any of the materials discussed in this blog.