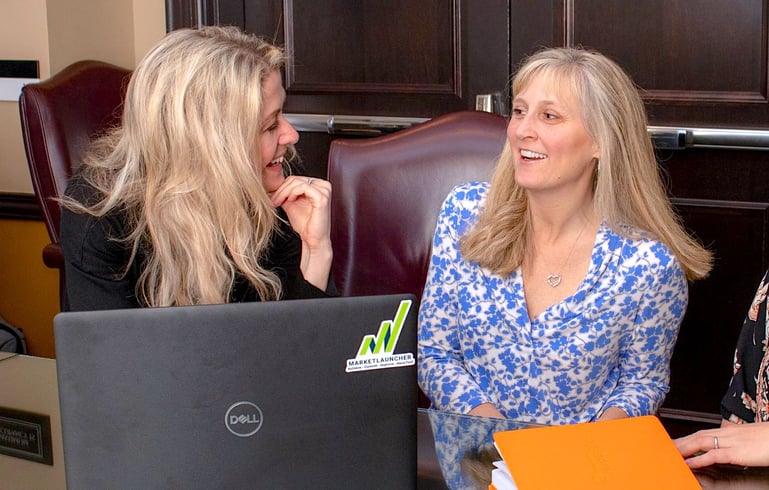 As a C-suite executive, do you find yourself spending your days digging through prospect lists and cold calling potential leads instead of focusing on your business strategy?
Before joining MarketLauncher, I spent 5 years working with YPO (Young President's Organization), a CEO peer-group with 27,000 members worldwide. I had the opportunity to hear first-hand some of the challenges that leaders face across a wide range of industries and business sizes.
Something I heard a lot from these executives is that the space between marketing and sales is where they often have to jump in to facilitate, even when they have a full sales team. What a lot of people don't realize is that most leads, warm or cold, take at least 8-15 touches or more to get to a meeting. And if you are tracking all that activity in an Excel spreadsheet, the process becomes overwhelming and leads to missed opportunities. Across the board, companies not only struggle to keep their marketing and sales teams aligned, but oftentimes they haven't developed a proven process to move the needle forward with the right prospects.
As a senior leader of your organization, you know where your strengths lie and where you should spend your time. So, what can you do strategically to remove the many tactical sales needs from your day-to-day that are taking you away from where you need to be?
Begin by asking yourself the following questions:
Are you

or your team

working a large list of contacts trying to determine if the company is a good fit for your offering or

whether or not

they have

a

budget in place?

Are you trying to figure out who

the real decision maker is

at these companies

, or who all the stakeholders are that

you should be talking to? Have you left numerous voicemails and talked to a long line of support personnel trying to access the qualified decision maker?
Are you

failing to

develop and send thought leadership content as a follow-up to

all of

your phone communications?

Does it take multiple touches and hours of your time to book a single

meeting

?

Have you had trouble hiring and maintaining an effective inside sales team? Is there high turnover due to burn-out

or

lack of

success

?
The bottom line: as an executive, cold calling is not the best use of your time and is not likely to produce the highest ROI for your company.
At MarketLauncher, we know that growing companies need to close the gap between marketing and sales because that is where the biggest pain points lie for busy executives. Having a team focused on lead development to enhance the efforts of your current marketing and sales teams will get you in front of more of the right opportunities.
Our process is simple: We start at the top with audience development, through which we research to find the total addressable market and identify the decision makers who are the right fit for the offering. Then, with a targeted outbound approach, we develop a list of prospects and make sure they are qualified and that all of their contact information is up-to-date.
Once we've got the right audience, it's all about moving them through the pipeline using a steady cadence of phone and email outreach. As prospects engage with content, you can better leverage time spent on sales activity by focusing more attention on those leads that appear to have an active interest in the subject matter most relevant to your offering. The end result is more booked meetings with qualified prospects and more time for C-Suite executives to spend closing the deal.
Part of aligning sales and marketing is ensuring that the materials your marketing team is producing are being utilized effectively on the sales side. Your email campaigns should share thought leadership content, test varied messaging, and unlock new methods to reach your target audience. When we do this at MarketLauncher, we track what messages resonate and then optimize accordingly so that we can focus on the best ways to have an impact.
Finally, consider replacing those messy spreadsheets with a marketing platform. We use HubSpot, which gives both marketing and sales teams full visibility into the process and tracks the performance of all activity. Not only can you automate sales development tasks like touchpoints and email sequences, but you can build a lifecycle/lead status roadmap to prioritize prospects and define your pipeline. With access to real-time data and updated contact information, you can work smarter and be more strategic in your sales efforts.
Once you've covered that gap between marketing and sales, you can put your focus where it needs to be:
Making strategic decisions for your compan

y

Working in conjunction with

the

sales t

eam t

o close the biggest deals

Focusing on the

overall strategy for

marketing and sales

Managing the functions of your organization
If you're an executive who needs to spend less time on top-of-funnel sales and more time leading your business, please reach out so we can help make that possible.