As we continue our analysis of the global pandemic's impact on revenue generation efforts, we are heartened to see the beginnings of a move back to pre-COVID-19 numbers. As we reported in our last blog, companies employing a strategic approach to their selling efforts were recovering faster, and our latest numbers see that trend continuing. Additionally, the adoption of (and growing comfort with) digital strategies like virtual meetings is also having a positive impact.
A recent report by our partner, HubSpot, supports our findings while also warning that a "spray and pray" outbound approach will fail. Outbound efforts must be strategic to be successful.
What exactly does this mean?
Strategic Outbound Sales (or Account Based Selling) is a data-backed approach that starts by building a foundation of qualified decision makers, nurtures them with personalized outreach, and tracks engagement across industries and audiences… from first touch point to conversion to client.
MarketLauncher applies Account Based Selling for each of our clients which is why we are seeing a significant rise in lead conversions from marketing qualified lead to booked meeting. Looking at the first quarter of the year as a benchmark, by April prospect calling dropped 42% below benchmark and the number of sales meetings booked as a result of the lower volume of calls fell 55% below benchmark. It was no surprise, then, that the overall conversion of MQL to sales meeting fell 24% below benchmark.
We saw recovery initially begin in May, and numbers have been steadily climbing since then. Call activity is up 66% since the beginning of the pandemic and the number of sales meetings booked is up 179% (20% above the original benchmark).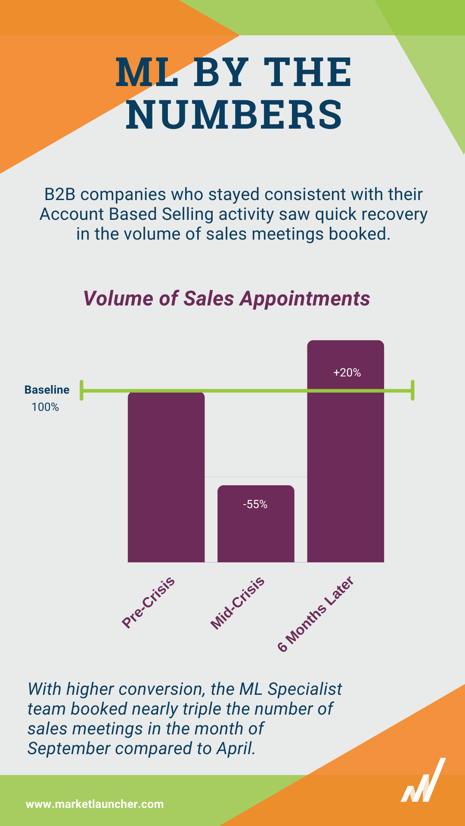 Correspondingly, the overall conversion from MQL to sales meeting is up 69%, or 30% above the original benchmark.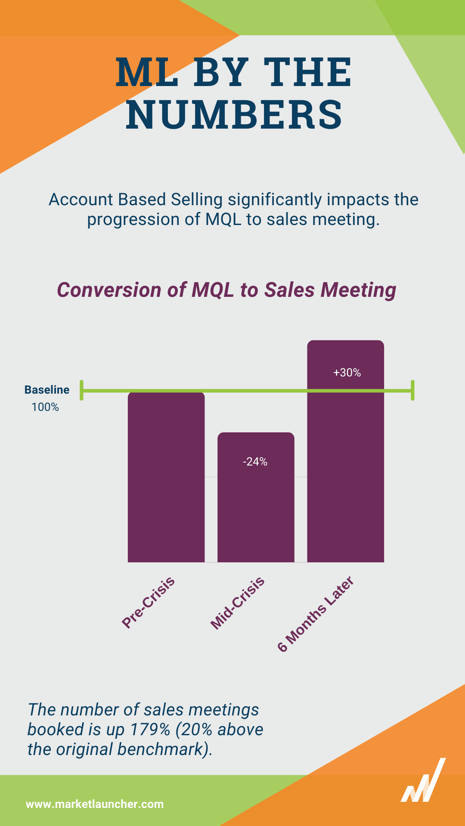 We are also seeing a positive impact of digital technologies on the selling process as both buyers as well as vendors have grown more comfortable using solutions like Zoom to connect.
At a time when in-person meetings are not a possibility, you cannot afford to disengage. 
Your effective communication during this time of unrest can set you apart from the competition. Our Director of Business Development, Dyan Klein, offers some suggestions that may help you.
MarketLauncher's Advice: Hone Your Skills
The MarketLauncher team suggests that you stay the course of applying strategic outbound selling strategies and embracing digital tactics. Dedicate time to honing your skills in these areas. This will allow you to react nimbly and successfully to the inevitable bumps the pandemic will create as we move into the winter months while positioning you for success as we move toward a post-COVID world.
MarketLauncher will continue to track and report our findings in future blogs. If you haven't already subscribed, we invite you to do so.
If you are looking for ways to improve revenue generation, we've created a 90-Day Map to Save Your Sales Pipeline that can help you. Please contact us to learn more about MarketLauncher, or any of the materials discussed in this blog.