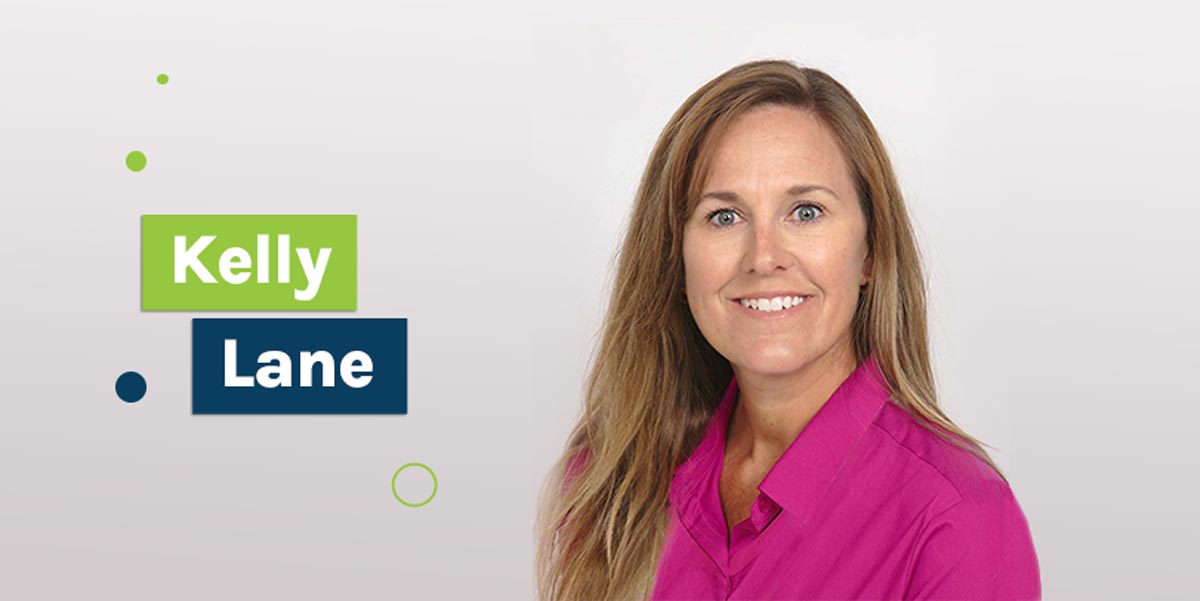 Patient persistence and active listening are the key talents Kelly Lane uses to support her family, her clients, and her community. Kelly describes herself as a helper who takes advantage of every opportunity to give back and says that it "feels good to do good".

Michelle Haarde, ML's Director of Client Services, has worked with Kelly often and says, "Kelly's ability to actively listen and ask probing questions has made her an asset to every client account that she works on. She is skilled in identifying a key pain point and then speaking to that need. It is her helper mentality that makes her approach truly genuine and very effective."
Tell us a bit about yourself, Kelly.
I live in Pittsburgh with three very active kids, my husband and a dog who comes to work with me every day. Basically, that means he heads to his bed which is in my office as soon as I say, "It's time to go to work."
I have a hybrid role at ML, working as both a Sales Development Specialist and also as a Market Research Specialist. I have been in sales for various companies including my own for over 15 years and have worked remotely for many of those. My husband also works from home, so we have set up our offices to ensure we both have the space and privacy we need. We come together for lunch and breaks. It's a nice setup.
"Kelly has a dual role at ML – both in warming up the audience and then progressing the lead. When Kelly identifies that an initial contact is no longer at the organization or there are other stakeholders involved in the decision-making process, through her persistence she can identify a new referral within the organization. This is key to our strategic outbound process."


– Michelle Haarde – Director of Client Services
Tell us more about your dual role. How are the two different?
At ML, our Market Research role includes calling into accounts to ensure we identify the right people to speak to who will find value in our clients' offerings. I work with a great team of data managers who do the initial market research. Those lists are an invaluable start but it's really important to then validate the leads. That's what I do in my Market Research Specialist role. I verify the contacts on the list and then start the conversation.
Once that is done, the Sales Development Specialist steps in to continue the conversation and convert leads to opportunities for our clients to begin the sales process. Intel from every conversation is captured and integrated into the analytics and reporting that are part of everything ML does including establishing the right next steps to take.
These two roles sound quite similar, but they require a different set of skills. In my sales experience, I have performed both roles. I am naturally curious so enjoy the beginning of the sales cycle, and my persistence and instinct to help naturally lead me to want to see a sales opportunity through to the end which can take some time and requires patience. I once worked with a doctor who had invented a product but didn't know how to take it to market. I conducted the market research and then began outreach to confirm if there was a need or interest, which there was. I then took those conversations forward and turned them into new business for the doctor. It was very exciting. I really enjoyed the "end to end" experience and wearing both the marketing and the sales hat!
Lara Triozzi (our CEO) and the ML team recognized that I could start the conversation and then shift to sales development if warranted, so they approached me about taking on this dual role. I enjoy the flexibility to continue the conversation immediately when the opportunity presents itself.
Lara adds, "There are some members of the ML team, like Kelly, who are just naturally wired to take on this dual role. They tend to be curious and enjoy venturing into the unknown to help identify the right prospective stakeholders but then also want to see it through with follow up to further develop the lead until it is sales-ready."
You used the phrase "patiently persistent". What does that mean?
Well, to be a good salesperson you must actively listen. You may hear a "yes, tell me more" or a "no; I'm not interested". But you also may hear a "that's interesting but not right now" message. You need to listen for which response you get and then act on it. It's the "not right now" message that requires persistence.
How I became a member of the ML team is a good example of that. I reached out to Shari Bazemore, ML's Employee Experience Associate, to learn more about ML and see if they might need someone with my skillset. I really liked Shari and everything she shared with me about the company. ML didn't have any openings that were a fit at the time, but we started a dialogue and I made it a point to continue to reach out to her regularly. It took two years, but I finally got an interview, and ultimately a job, with ML. My patient persistence paid off!
What attracted you to ML?
I had stepped back from the sales world when my kids were little. As they got bigger, I started a job with a company that allowed me to work from home and I loved it. It offered me the best of both worlds… do the work I love (sales) but also be there for my family. So, when that company was acquired, I knew I wanted a similar type of setup. I did some research and discovered ML. I was instantly attracted to the organization. After reading some ML bio's I thought "These people get where I'm coming from. They understand that life doesn't revolve around work but are also passionate about their careers." Everyone was so like me… professionals who for a variety of reasons wanted the flexibility to apply their expertise on their own schedule. That work hard, play hard culture really attracted me.
It took two years, but I finally got an interview, and ultimately a job, with ML. My patient persistence paid off!
One of ML's core values is "improvement". How do you apply that?
One of my favorite roles is helping and to do that effectively for my clients I immerse myself in learning about their industry and challenges. It's the same approach I take with my kids. One of them was taking a philosophy course for instance and needed to learn about Nostradamus. I educated myself about the French astrologer and physician so that I could better help my son with his studies.
When I apply that same approach for my clients, I constantly read up and educate myself about them, their competition, and any new updates to their offerings, new market drivers, that sort of thing. This helps me offer recommendations for a change in direction or different sales tactics to use or new conversations to have with their potential customers.
What are your hobbies or interests?
I've always been very involved with my kids, volunteering in their schools and getting involved in their sports and extracurricular activities like gymnastics and baseball. This has helped us all stay connected. My husband and I spend a lot of time driving to and from ball games and practices! And, as a family, we have always been involved in our community. That spirit of giving back has benefited all of us.
Interesting side note. My baseball knowledge has helped me in sales cycles. If I'm talking with someone who is a fan, they instantly warm up to me when they find out I can "talk the talk".
Thank you, Kelly. Is there anything else you would like to share?
Yes, one of my favorite roles at ML is mentoring our new hires. I really enjoy it. I guess it goes to my "helping" mentality. Because we are remote, we must stay connected. We have a few team members who also have a dual role and because of my experience, I get to share best practices with them, and learn from them, too.