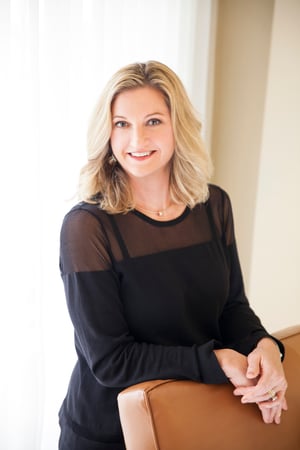 As Director of Business Development, Dyan Klein has developed our client base across the globe. She nurtures long-lasting relationships with our clients and FANS, masters the art of consultative selling, and excels as a member of our leadership team. We asked her a few questions about her evolution at MarketLauncher over the last decade.
1. Tell me about your role at MarketLauncher and how it has changed over the years.
I lead business development alongside our CEO. Specifically, I'm responsible for nurturing our FANS base (former clients and relationships) by providing value-added thought leadership and education on market trends and effective best practices.
I started with ML 10 years ago in a part time Sales Development Specialist role. I quickly evolved into an account management role developing our international business in Western Europe. I became Director of Client Services, supported a team of managers and part of the senior leadership team, overseeing North America and European clients as well as several in Australia.
Upon return to The States in 2017, I became Director of Business Development. In addition to driving the FANS base, I support team members focused on net new lead pipeline development.

2. What motivates you to get up and get to work every day?
The thrill of sales and business development and delivering on my goals and for my team. In addition, the impact I can have on our client's business through consultative conversations, which lead to the development of strategic initiatives to drive sales growth.
3. What skills, tools, or habits do you think every great sales person needs?
A great salesperson needs to have a strategic vision of what they are trying to achieve. The support from the team and tools that surrounds them, including marketing, sales, and executive management is critical. From there, personal motivation and commitment to do what it takes to meet objectives with a relentless approach of SMART goals – Specific, Measurable, Achievable, Relevant, Time-based.
4. How do you think the nature of sales has changed throughout the years?
Sales is constantly evolving. It's important to stay relevant and educated on best practices. Sales are not driven solely by executing numbers, but more so on executing strategic plans, monitoring performance and being agile to shift accordingly to drive positive results.
5. Can you tell me about the types of projects you enjoy working on the most?
There are many programs that I have managed over the years at
MarketLauncher
that I'm proud of. Specifically, I achieved great satisfaction from taking unique standalone programs with a client and multiplying the solution across different business units
. In addition, I really enjoy sinking my teeth into challenging, private equity-
funded programs
with clients that offer a complex product or services targeted at high-level decision makers. A great project is one in which we can go in with a consultative approach and accelerate market potential.
6. You spent quite a few years at ML working from Germany. What was that like? How is it different now that you're based in Portland?
Out of this world! I had a tremendous opportunity to oversee Client Services virtually from
Germany, and
facilitate programs for our clients to help build their businesses in regions across the world. I traveled abundantly throughout Europe. It was fast-paced, fun and a lot of hours maintaining relationships with ML and clients across many time zones. Oftentimes, I would work early in Germany before the US woke up to prepare for a full afternoon of meetings into early evenings sometimes. I wouldn't trade the experience for anything. I learned a lot and contributed in many areas. Now that my family and I are stateside, life has changed. It's great to be closer to family and close friends. In addition, we are in the active years with two teenage daughters and college approaching before we know it. I'm also an active volunteer with my work with The National Charity League and The Alzheimer's Association.
7. Is there a book, movie, or song that you are obsessed with right now?
My favorite songs and movies go hand-in-hand now – Shallow by Lady Gaga in A Star is Born and all the Queen songs from Bohemian Rhapsody. My latest read is from Jenna Bush Hager's book club is "The Last Romantics" by Tara Conklin which I read on my recent, long flight to Cape Town, South Africa. I'm also a big fan of "Leaders Eat Last" by Simon Sinek. It's all about teamwork and how to foster a culture of cooperation and trust. I recommend it to everyone, regardless of their industry.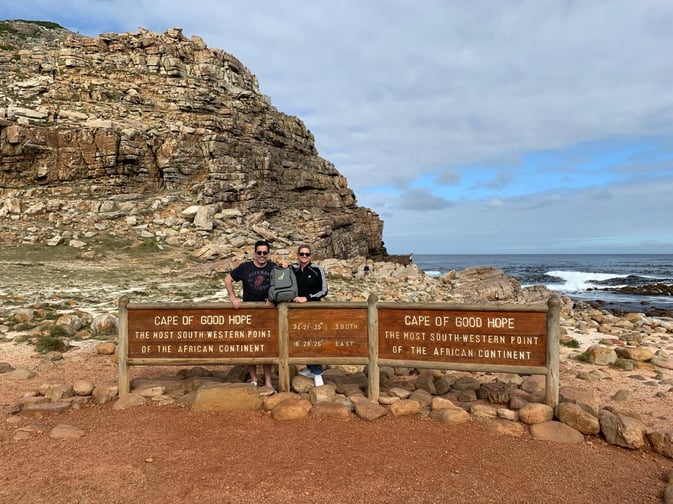 Dyan and her husband sporting the trusty ML backpack in Cape Town, South Africa.